five days of inspiration & a sanctuary discount offer
hello, friends! if you follow me on instagram you may have seen that my account was flagged and restricted due to some of the content i was sharing in support of palestine. i'm certainly not alone in having my posts and stories censored, and am grateful to not have had my account fully deleted like some have. but to me it signifies how important it really is to continue using our voices when we're able. they wouldn't be trying to limit our impact if our voices did not matter.
please remember too that "using your voice" can mean many, many things. from boycotts and protests to social media posts, calling representatives, signing petitions, having hard conversations, creating sigils, writing offerings, harnessing magic, and so much more, activism can take endless forms, not all of which are public-facing. we all have a part to play. (i also realize that it's possible that some folks who are reading these words don't agree with my stance on palestine. if that's the case, i would gently invite you to dig into that discomfort, consider your sources for information, and check out this recent post from ARD.)
with all of this in mind, i wanted to share some quick announcements regarding my upcoming creative container, sanctuary of the empress, which begins on november 1st.
firstly, all this week i'll be hosting an instagram challenge that i'm calling five days of inspiration, with the first post going up tomorrow. this will be a free five-day series of tarot-inspired creativity prompts, all shared on instagram, featuring a card each day with ideas and themes to kick off creative play, discovery, and experimentation.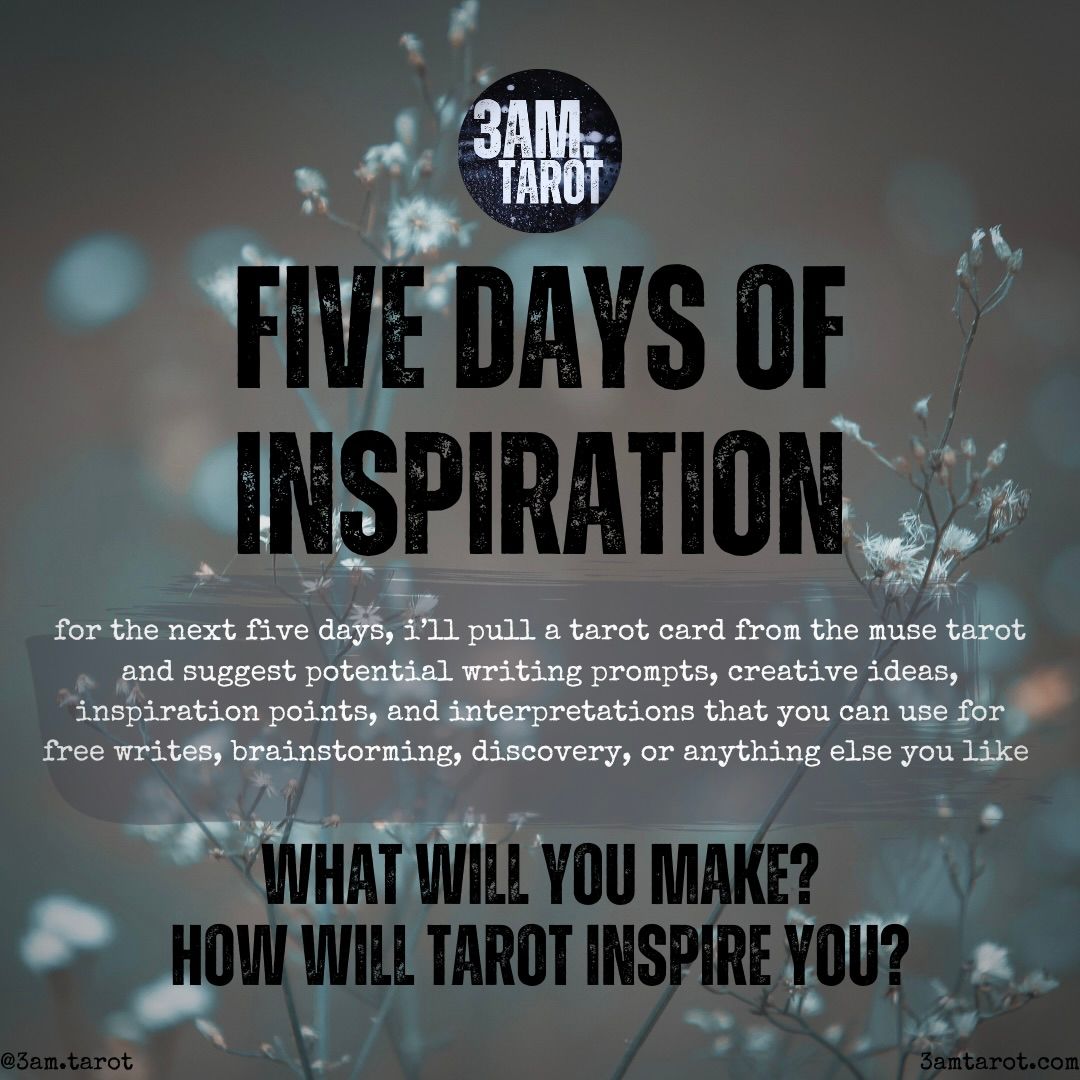 there's absolutely no pressure to share what you may make (although you certainly can!), but it's my hope that this free series will bring some joy and ease into your regular creative and artistic work, as well as giving you a taste of what the container will include. and if you're participating in #nanowrimo or another november creativity challenge, i hope that this as well as some upcoming tarot spreads will help support your prep work.
creativity can be messy, playful, joyful — and i think often, it's best to let it start that way.
and secondly, while i worked hard to price the sanctuary as affordably as possible (while still helping me cover my own expenses), the ongoing news from palestine and the reminders of just how many people are struggling financially has challenged me to try even harder to make this container as accessible as possible.
if you are indigenous, a person of color, disabled, trans/gnc, or directly impacted by the ongoing crisis in palestine, and are interested in participating in sanctuary of the empress but are struggling due to funds, please shoot me an email to receive a discount code for 25% off the container price, which is normally $99. if enough people sign up i may be able to offer full scholarships to the container, but i'm unfortunately not in a position to do that yet.
while the container officially begins on november 1st, i'll be opening the doors to the digital space in just a few days to give us all a chance to get to know each other in advance. i would love to have you there.
i'll be back in your inboxes tomorrow with some thoughts on scorpio season, and make sure you check out five days of inspiration on instagram!
more soon 🖤