new moon & solar eclipse in cancer
hello, friends and readers. how are you balancing everything right now? are you giving yourself space to rest and unplug? drinking enough water? going outside sometimes, safely? the energy is heavy and intense right now, as we find ourselves in the middle of eclipse season. this weekend holds a lot of shifts: we are entering cancer season, are honoring litha and the summer solstice here in the northern hemisphere, and also have a new moon and solar eclipse in cancer. and while i'll be offering a few insights into how tarot plays into all of these aspects, i also want to encourage you to listen to your intuition right now, to give yourself space for awareness and healing. we have one more eclipse in a few weeks, venus and mercury are retrograde, and the challenges of our world are still ever present. this is not a time to push, but a time to listen and learn, to connect, to evolve.
it might feel impossible, but please, make sure you're caring for yourself, pacing yourself. black lives still matter, the pandemic is still real, voter suppression and climate change and police brutality are still ongoing and important concerns - but we cannot keep fighting without also taking time for rest. it's imperative that we balance action with stillness, that we pay attention to our needs, that we build up our stamina. we need you for the long haul, not just for the next few weeks until you burn out. prioritize healing, recovery, in the same way that you make time for everything else that matters to you.
close your eyes, and take a few deep breaths. relax your shoulders, unclench your jaw, stretch your neck. release any tension that's lingering in your body, and gift yourself a few moments to think about the moon and the stars, the energies of water and air and sunshine that we are exploring. let's dig in.
gemini to cancer
today, june 20th, we move from curious, information-focused gemini into sensitive, emotional cancer. this feels like a slowing down, a settling, as we shift from a season of quick-moving air into the intuitive, dreamy flow of cancer's water. in another day or two i'll be sending out a more in-depth exploration of what it means to shift from the lovers into the chariot, the way that our energy transforms and finds new focus during this transition between seasons - but for today, i have a new round of tarotscopes up at autostraddle. there you can find card readings for your sun, moon, and rising signs, as well as a more detailed look at cancer's birth card of the chariot.
although the chariot is the main tarot card associated with cancer, within the minor arcana we also see cancer in the psychic and empathic queen of cups, a figure of nurturing and strength. this ruler teaches us to prioritize compassion and sensitivity, to care for ourselves with the same devotion and kindness that we offer to others. and in the pips, we find cancer's energy in the four of cups, balancing boundaries with community. it can be challenging to protect ourselves without going overboard, to honor our own needs while still staying connected to those we love - and in cancer, we see a desire for privacy and the comfort and safety of home pushing against personal walls or worries. it's possible to pursue our dreams and build our communities while also giving ourselves space to process and heal, but it must be done with intention, or we can easily find ourselves isolated or stagnant.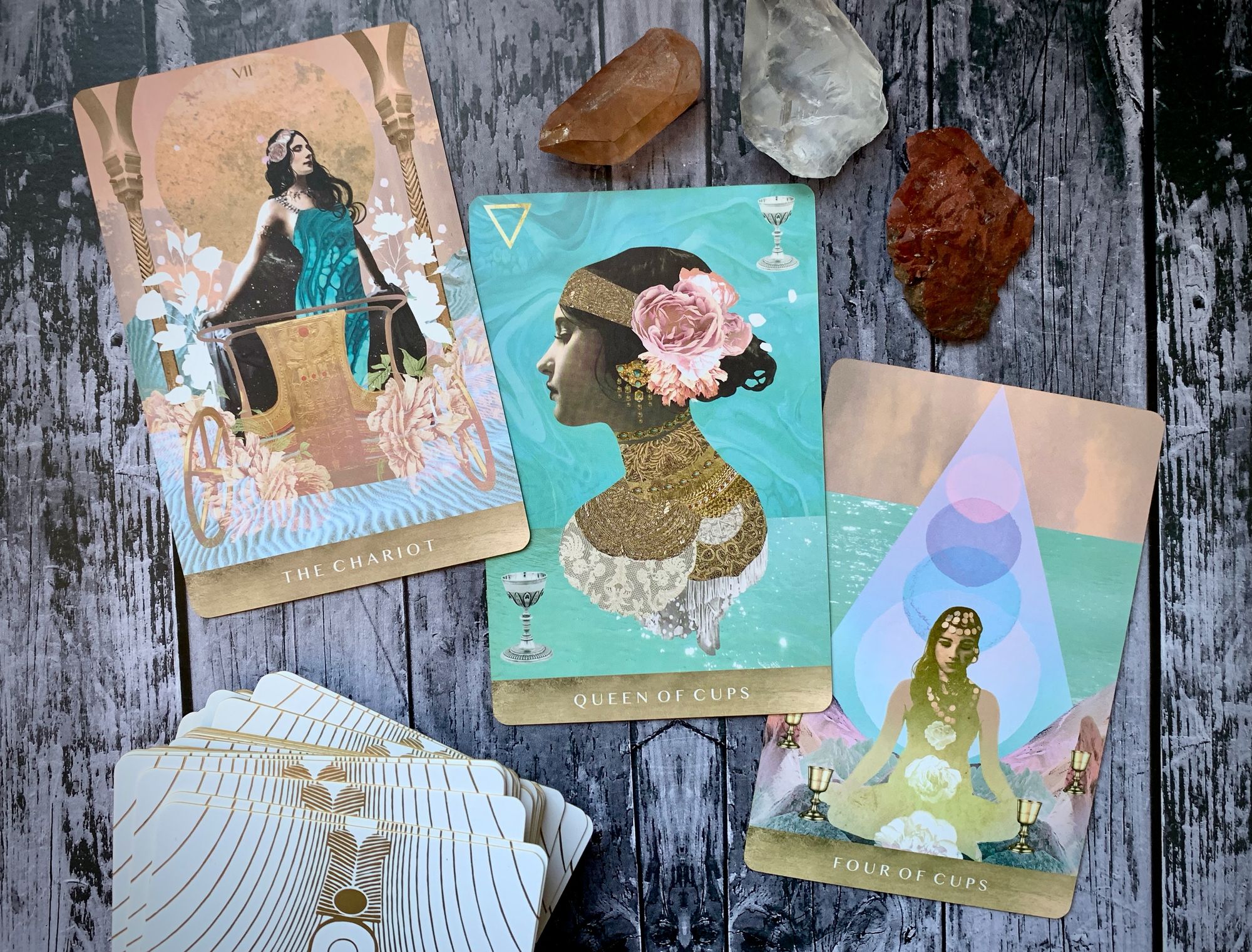 the new moon & solar eclipse in cancer
depending on your time zone, we will experience the second in this three-series eclipse season, a solar eclipse in cancer, on june 20th or 21st. with so much energy and disruption in sensitive cancer, this eclipse will urge us to consider how we care for ourselves and one another, to be truthful about what we are nurturing. how are we balancing progress and recovery? how do we show love? how are we compassionate? cancer speaks to security, to family, to the ways that we guard ourselves and the ways that we grant ourselves thoughtful freedom. where do you want to go? what does home mean for you, and how has your understanding of home evolved? who is part of your most valuable, chosen family? where have you been feeling vulnerable? what is that teaching you about who you are, what you need?
as we've explored before, within the tarot we can find the energy of the new moon present in the archetype of the fool. this is the choice to shift, to invite change, to begin something both unexpected and essential. the fool cannot stop dreaming of a specific kind of future, a desire that has captured their heart and soul - and as they take that first confident step into the unknown, it feels that literally anything is possible. in the same way, new moons are ripe with potential, offering us endless opportunities for expansion, growth, creativity, connection, and inspiration.
i see eclipses as tied to the energy of the tower archetype, times of confusion and chaos, powerful and permanent shifts that create space for significant, essential change. and with a solar eclipse in protective, home-oriented cancer, we have opportunities to consider our communities, our connections, the collective. how can we strengthen or build methods of protection, care, and comfort? what are we doing to honor our own needs, and to attend to the needs of those that may be depending on us? how do we treat those that are vulnerable? the chariot speaks of intentional exploration, of finding ways to enjoy freedom while also staying focused on progress, of balancing our safety and security with new and necessary movement. where are you coming from, and where are you going? how are you standing up for your beliefs, your values, your vision of what's possible? what can you learn about your own journey, and how is your past informing your present and your future?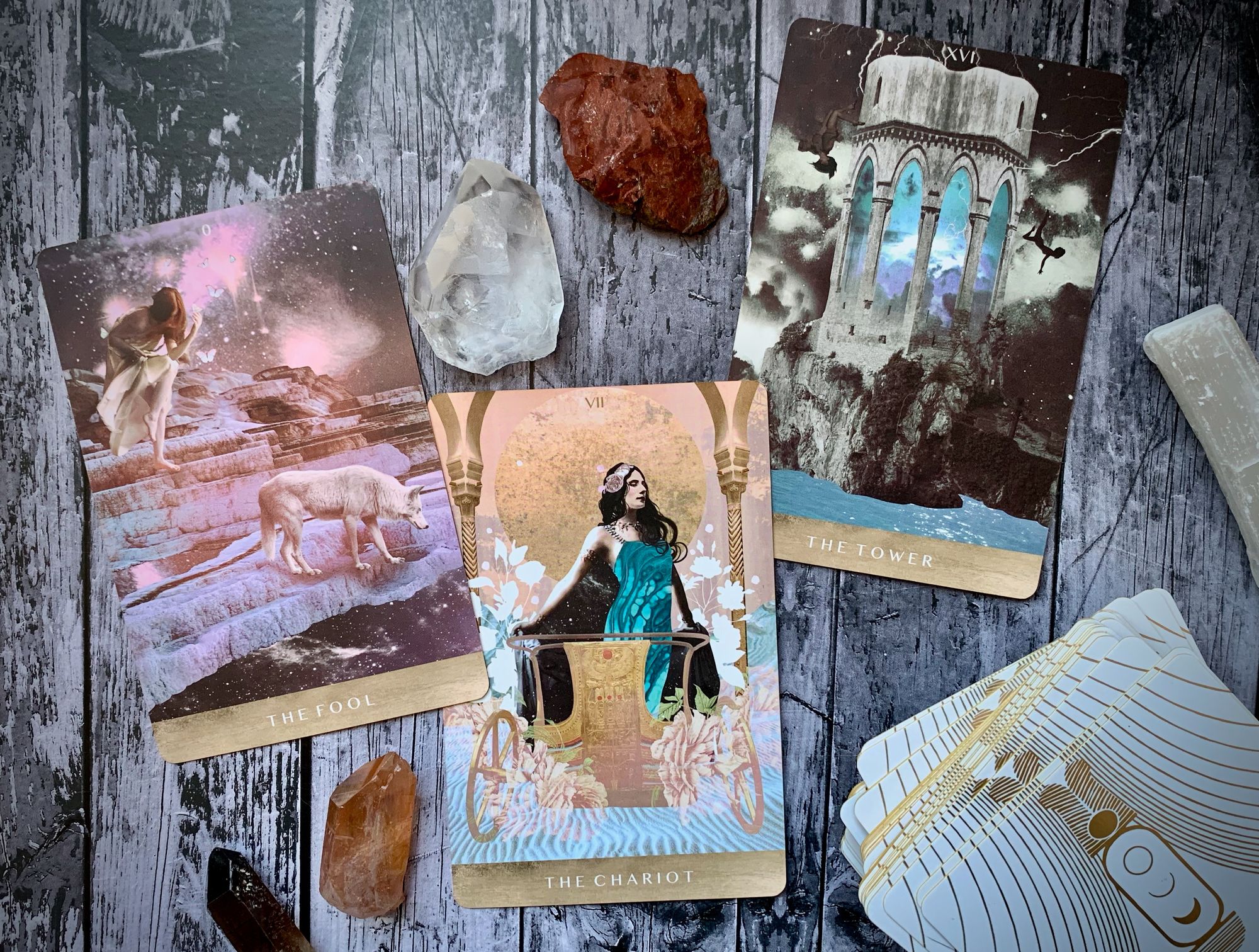 as a trio, these archetypes explore different kinds of movement. the fool is eager and naive, may be courageous but has no idea where they are going, is relying fully on intuition and faith in the universe to help them forward. the chariot is fast and powerful, with a plan, a route, a destination, as well as a safe place to recover once the race has been won. and the tower is a quick and chaotic free-fall, a breaking down of the old to make space for the new. all of this movement brings new freedom, either in breaking out of old patterns or in racing towards a carefully chosen destination. and in looking at these cards together, we see deliberate change, intentional evolution, a desire and need for transformation. how can we balance thoughtful action with open shifts? what are we holding on to, and where do we need to let go? how can we move with purpose and focus? when might we need to slow down and consider where we're going? and where might taking a risk help us find a new perspective on our future?
litha
our shift into cancer season always overlaps with the summer solstice in the northern hemisphere, also known as the festival of litha. this is midsummer, the longest day of the year, a time of sunshine and brilliance and celebration. it's during the summer solstice that we honor fire and light, strength and transformation, that we look to the sun for clarity and truth and vitality. litha invites us to consider where we are empowering ourselves, to begin inviting in prosperity and abundance. what is growing within you? what can you celebrate? how are you finding warmth and comfort and pleasure? while many of us are still in various levels of quarantine, while we may not be able to gather with our cherished friends and family in person, there are still a number of beautiful practices and rituals that can be done at home to honor litha and the solstice. try to spend some time in the sunshine, light a candle or two, and carve out a few moments of joy. what have you been achieving? what parts of your life have been flooded with brilliant light? what is healing within you, and how is that shifting your potential?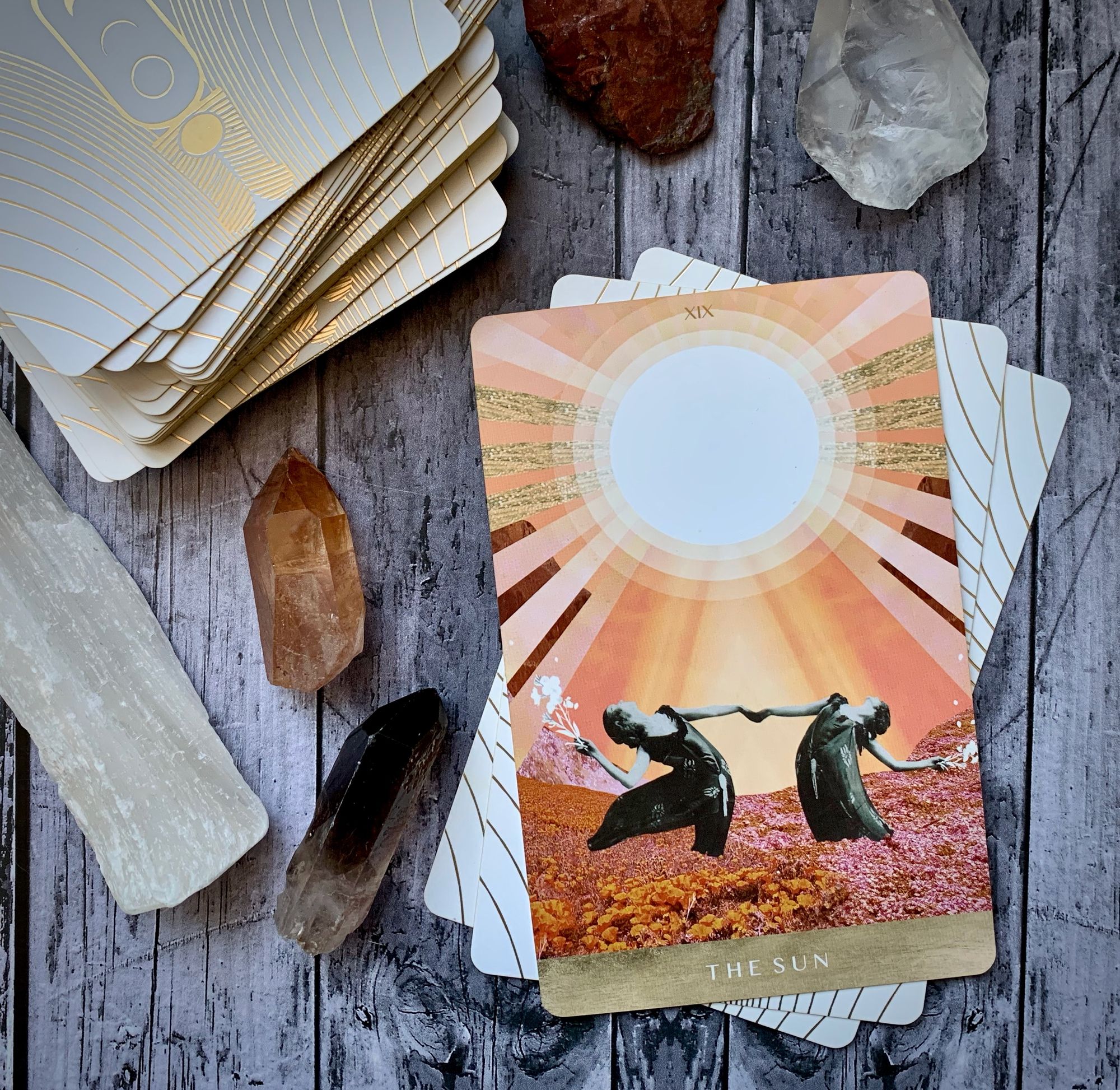 in addition to the spreads i shared a few days ago on the tower and eclipse season, i've also got two new spreads for you today - one focusing on the new moon and solar eclipse, and the other on the celebratory energy of litha. you can find both of these spreads on instagram as well as below, and i hope they help you tap into the magic and energy of this intense and powerful time of year.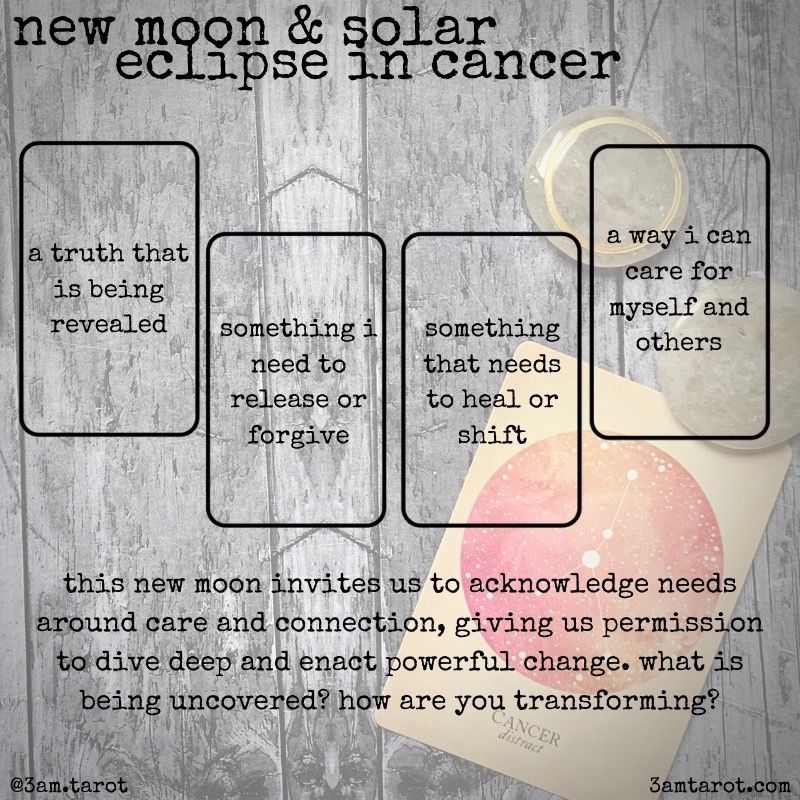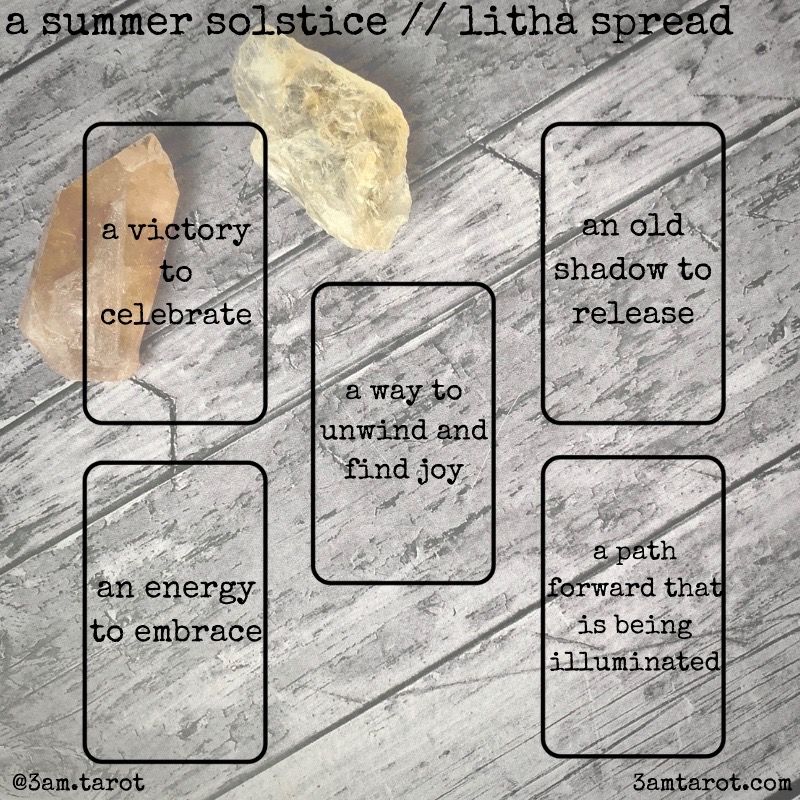 be safe and be well, friends. let's keep going.
images feature the moonchild deck and the compendium of constellations. photos created by meg jones wall.