introducing everyday fools: the email course
hello, friends!
i've been having a blast putting together courses in a new format, ones that include daily or weekly prompts delivered via email. they're intended to offer bite-sized lessons for daily inspiration, motivation, and exploration, and i've already gotten a wonderful response to my free five-day elements introduction course, which you can sign up for anytime over on my website.
with my very first book, finding the fool: a tarot journey to radical exploration, coming out in a little over a month (preorders are terribly important for new authors, and if you're interested in supporting my book's release, check out this recent update for more information!), i wanted to offer a companion-style course that encourages us to explore the fool archetype in a daily, consistent, joyful way.
the fool is such an important figure, one that has taught me so very much throughout my tarot studies and beyond. a card of possibility, wonder, joy, enthusiasm, and desire, the fool goes after what they want, even if they aren't sure what path this journey will take.
and by learning to harness this energy within our own lives, by making space for desire to shape and change our own realities, we can invite in the kinds of transformations that bring about real, lasting growth.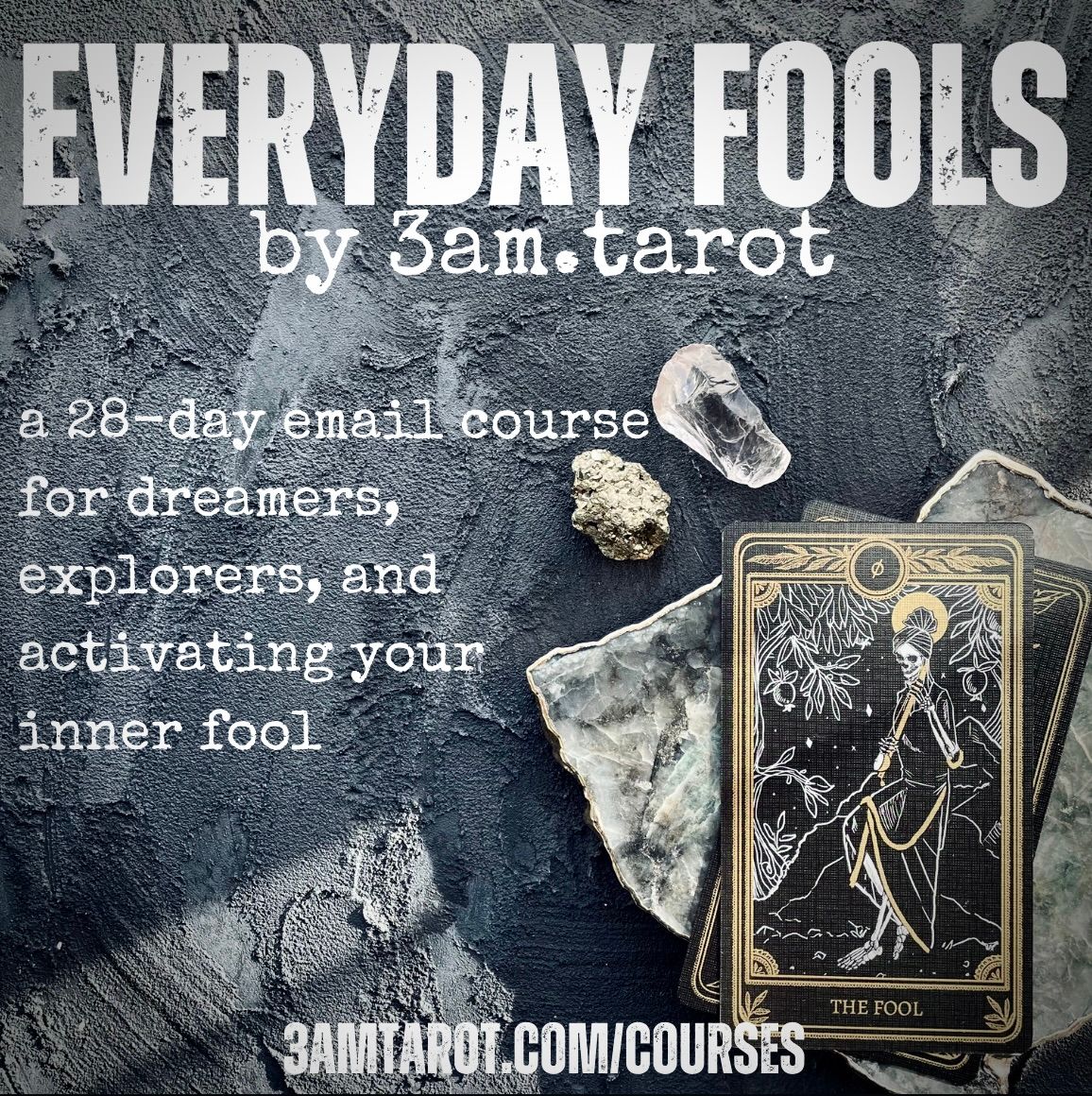 everyday fools is a 28-day email course that offers quick, accessible exercises, prompts, ideas, questions, and activities that will help you tap into the magical, awe-struck energy of the fool in your daily life. by signing up, you'll receive a short email every day in the month of february, one that encourages you to dream, laugh, play, question, anticipate, expand, and seek.
this course will support you in exploring the fool's energy on a daily basis, helping you tap into not only desire but also joy, curiosity, wonder, freedom, awe, delight, and play. the fool wants us to be deeply present while also dreaming big, to find pleasure in our daily explorations while also allowing ourselves to tap into all that we can be, all of the places that we can go.
what might you find within yourself? what magic could you activate, dreams could you embrace, talents could you encourage? what would it look like to work with the fool's energy consistently, to seek that energy within yourself?
let's find out together.