finding the fool is less than two months away!
hello, friends!
feels absolutely wild to say but my first book will be in the world on march 1! that's so so soon! finding the fool: a tarot journey to radical transformation is the resource that i wished existed when i was first learning tarot, and it's been such a privilege to put it together. i truly cannot wait for you to read it.
(and in case you missed it, finding the fool got a little shout-out in the new york times' profile of my brilliant partner and her book, heretic!)
---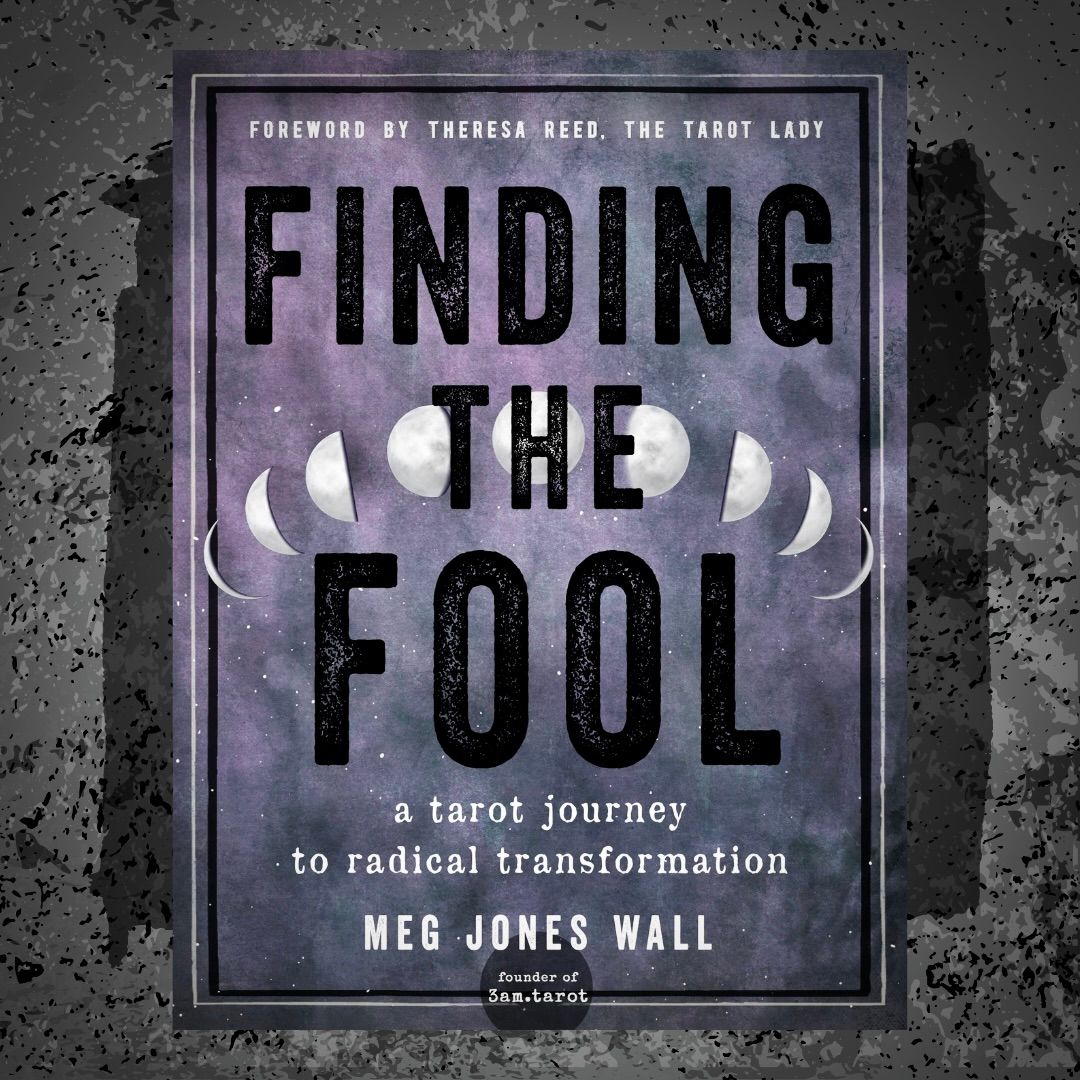 "Finding the Fool is a tarot resource and study guide that goes beyond standardized, traditional interpretations, instead opening the door for readers of all genders, identities, and experience levels to build a unique and personal relationship with the cards. For Meg Jones Wall, the tarot path to your real, authentic self is bigger than what can be found in only one deck, one way, or one teaching. Breaking through barriers to show up as who you truly are—that is the radical journey to self-discovery and transformation.

Featuring clear, inclusive, and contemporary explorations for every card, Meg provides a roadmap for our own radical journey, giving us the tools and information needed to tap into the wisdom that already lives within us. The author provides astrological and numerological correspondences, methods of connecting with the tarot through spiritual and creative practices, and approaches for using different esoteric tools to explore the cards in new ways to help us create a personal, lasting relationship with tarot. Also included are journal prompts for personal insight and study, and suggestions for creating your own unique tarot spreads, making this a powerful companion for readers of all levels."
---
when i first started reading tarot in 2016, i was completely lost. the cards didn't speak to me, at least not in a way that i could hear, and i had no idea what to do with them. in spite of having access to many wonderful books and online resources, i had never learned how to listen to my intuition, and didn't understand how to speak the language of tarot. i felt alone, like i'd failed somehow, like perhaps tarot wasn't for me.
but tarot is for anyone who wants it, no matter who you are, where you've come from, or what you have experience with. and if you've ever felt lost or alone when pulling cards, finding the fool is for you.
this book is the culmination of years of study, combining correspondences, journal prompts, exercises, spreads, and insights into one consolidated, supportive tarot companion. the purpose of this book is to guide you through learning the tarot and deepening your practice: not by memorizing meanings or distilling complex messages down into overly simplified keywords. instead, finding the fool aims to empower you to create your own definitions for these cards: ones that are based on your own interpretations and experiences, ones that you feel connected to and inspired by.
learning tarot is a lifelong practice, but with this book, i'll be with you every step of the way.
---
i'm not going to send you a million emails about this book, i promise. but pre-orders are incredibly important for new authors, especially those of us in more niche markets like tarot and occult studies. pre-orders tell publishers what readers want — and i want to write more books!
ordering my book in advance, asking libraries and local bookshops to stock copies, and sharing my book with other people is an amazing way to help this book succeed, and to hopefully allow me to write and sell more books in the future.
---
if you are interested in helping to support my book in the weeks before launch and joining the finding the fool street team (affectionally known as #TeamFool thanks to the brilliant rebecca scolnick), please reply to this email or message me at 3am.tarot@gmail.com! every bit of support helps, and i'd love to have you on the crew.
thank you for reading this far, for cheering me on, for being part of this community! i feel so lucky to get to do what i do, writing and creating art that helps empower people to be their fullest, most authentic and magical self.
let's find the fool together.
---
praise for finding the fool:
"A primer that is also a deep dive, appropriate and inclusive for all persons at all levels of expertise, Wall's book is a likely candidate to join the canon of must-read guides for the serious student of the tarot."
— Library Journal review
"Finding the Fool feels like an ascended master on a young diviner's shoulder, reminding them that intuition is built in asking great questions, not having every answer."
— Kendra Austin, writer, diviner, model, and author of The Realest Oracle
"Wall's flexible approach lets readers tailor a tarot practice that works for them; she also foregrounds inclusivity, rendering cards without gendered images and including a list of tarot resources that center marginalized communities. Beginners and experienced tarot readers will welcome the author's perspective."
— Publishers Weekly review
"A fresh voice, Meg Jones Wall has written seventy-eight meditative essays that inspire personal transformation. Drawing upon astrology and numerology, Finding the Fool is part postmodern primer on tarot and part spiritual philosophy."
— Benebell Wen, author of Holistic Tarot
"Finding the Fool is like Bible study for queer witches. From the first sentence Meg Jones Wall's voice is firm and comforting, the spicy friend who dommes everyone around her into self-care and spiritual awakening. She reminds us all that magic is a practice and not a lightning strike. "
— A.E. Osworth, author of We Are Watching Eliza Bright
"What Meg has done with this book is empower people to build an intimate and tailor-made relationship with the cards by challenging tarot's status quo, thereby helping people to establish a deep and intimate relationship with themselves."
— Mecca Woods, astrologer and author
"Knowledgeable without being dogmatic, she allows readers to form their own opinions and encourages them to make tarot their own and to integrate it into their lives in ways that work for them. Wall's gifts as both writer and teacher shine here in Finding the Fool—a much-needed addition to tarot literature."
— Brittany Muller, author of The Contemplative Tarot
"Meg's masterful prose for each card takes you on an experiential adventure where you can channel the essence of the cards while seeing how they apply to your life. With Finding the Fool by your side, you'll be well-equipped as you walk the path to self-discovery."
— From foreword by Theresa Reed, author of Twist Your Fate: Manifest Success with Astrology and Tarot