introducing five days of elements: a free email course
hello, friends!
in this hazy, quiet, reflective time of year, i hope you're finding safety, rest, healing, and perhaps even some wonder and awe that we have made it through another year. these days before the new year begins always feel like their own kind of sacred liminal space, a time to be present, to wonder and wander, to dream.
with all of this soft energy in the air, i wanted to share something that i've been working on, a free offering that i hope gives you some inspiration and creative boosts as we look to 2023.
i've been experimenting with new formats for both client readings and classes, and it's been really fun to play with new methods for connection, discovery, and education. i'm in the midst of creating more accessible tools and offerings, things that encourage personal transformation and exploration, that facilitate growth, questioning, and even release. and given my work with the elements over the years, this new mini course bubbled to the surface, demanding to be shared.
i'm so happy to introduce five days of elements!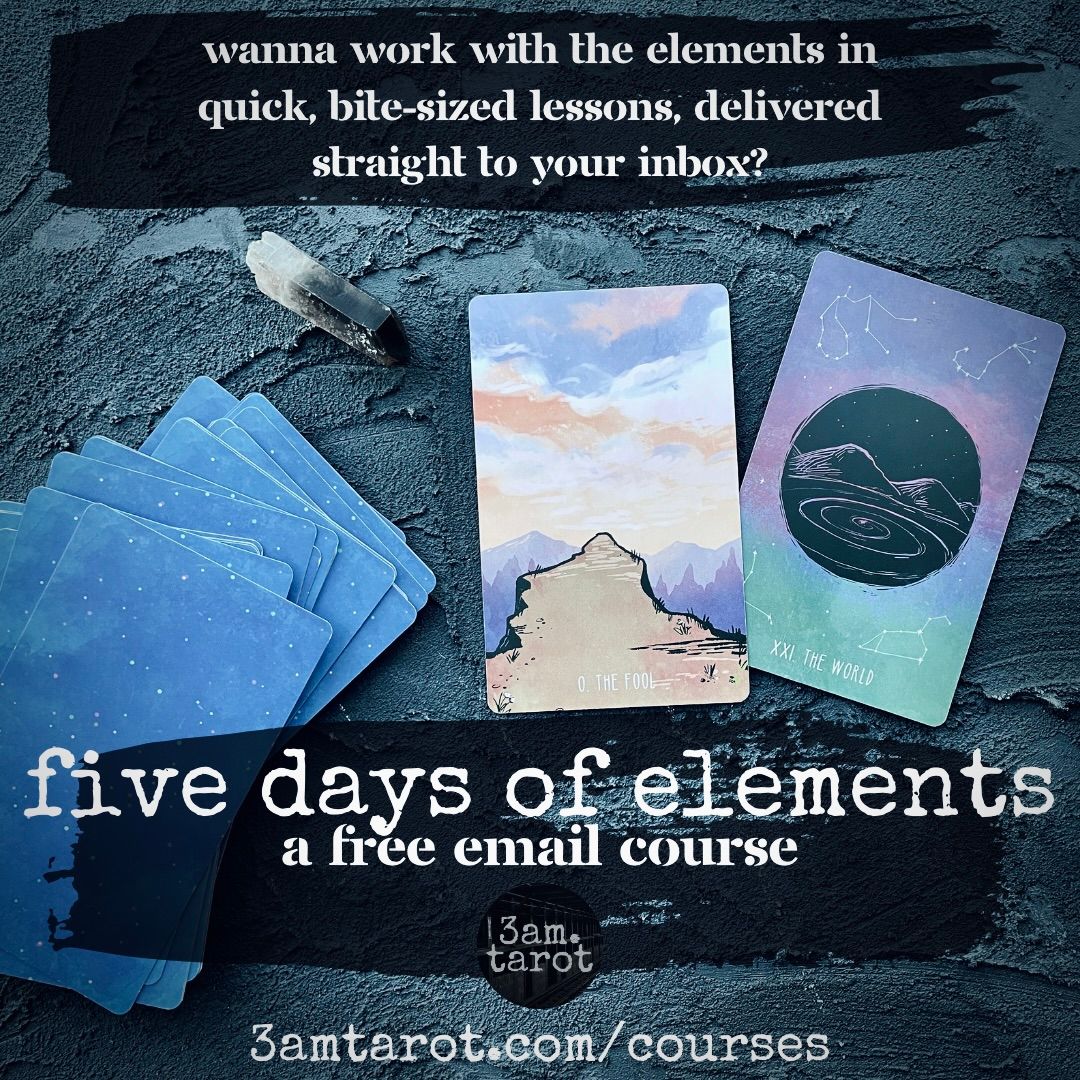 this brand new, free email course features five days of ideas, prompts, and simple activities to help you explore and expand your perspective on each of the four classical western elements, as well as that elusive fifth element of spirit. while the minor arcana does explore these elements through story and numerology, i think that in working with these elements beyond the tarot we can also broaden our understanding of each element, and consider how we personally connect with them.
what does fire feel like to you? how do you utilize the power of air? when do you experience water? how do you embrace earth? where and why do you feel connected to spirit?
as with all of my studies, there's no pressure to do every single exercise, to answer every single question, to spend more time or energy than you have working through these emails. instead, think of these lessons as jumping off points for your own personal relationship with each of the elements. the purpose here is to get your mind, heart, soul, and body moving, to open yourself up to new questions, to look at the story of the tarot through a new or more expansive lens.
this free course is always available, whenever you're ready for it: it'll start the day after you sign up, and you can always revisit the lessons because they'll live right in your inbox. i hope it inspires, encourages, and supports you in your personal work!
you can sign up right now on my website, or by completing this form:
---
this will be my last note to you before the end of the year, and i just want to offer a sincere, heartfelt THANK YOU for reading and supporting my work, for being here, for cheering me on. 2022 was a difficult year, and i have so appreciated you letting me into your inboxes, allowing me to share my work and writing, and encouraging me to keep creating new tools for expansion and exploration.
wishing you a beautiful, safe, and joyful rest of the year. i'll be back in your inboxes on january 1 with the numerology of 2023!