i'm thrilled to announce that i'm once again opening my popular nine-week tarot numerology course, devils & digits! i've gotten a lot of requests for another round of this class so if you haven't been able to take one of the previous sessions, i truly hope you'll be able to join us for this one, which begins on sunday, april 30th.
numerology is the hidden-in-plain-sight structure of the tarot that empowers us to organize, understand, and interpret the cards through the lens of story. and for me, studying the patterns of the digits in the major and minor arcana was the key to helping me learn to connect with the tarot in much more holistic, personal, and integrated way.
with numerology, we can identify recurring cycles and narratives no matter where they appear in the tarot, by grouping the cards together in different ways: not only by their specific digit, but also by their energy, their intention, their purpose. in understanding which functions every card serves in the broader story of the tarot, we can create deeper connections, finding confidence and power every time we grab our deck. and in finding the commonalities between certain cards, we also emphasize their differences, helping us to identify what these cards mean in the broader context of the narrative.
whether you're a new reader or have been working with the tarot for years for years, numerology can help you get to the next level in your practice. this structure offers a personal, detailed map to refer back to whenever you feel lost, stuck, or confused about a specific archetype or card, one that you can keep building on for years to come.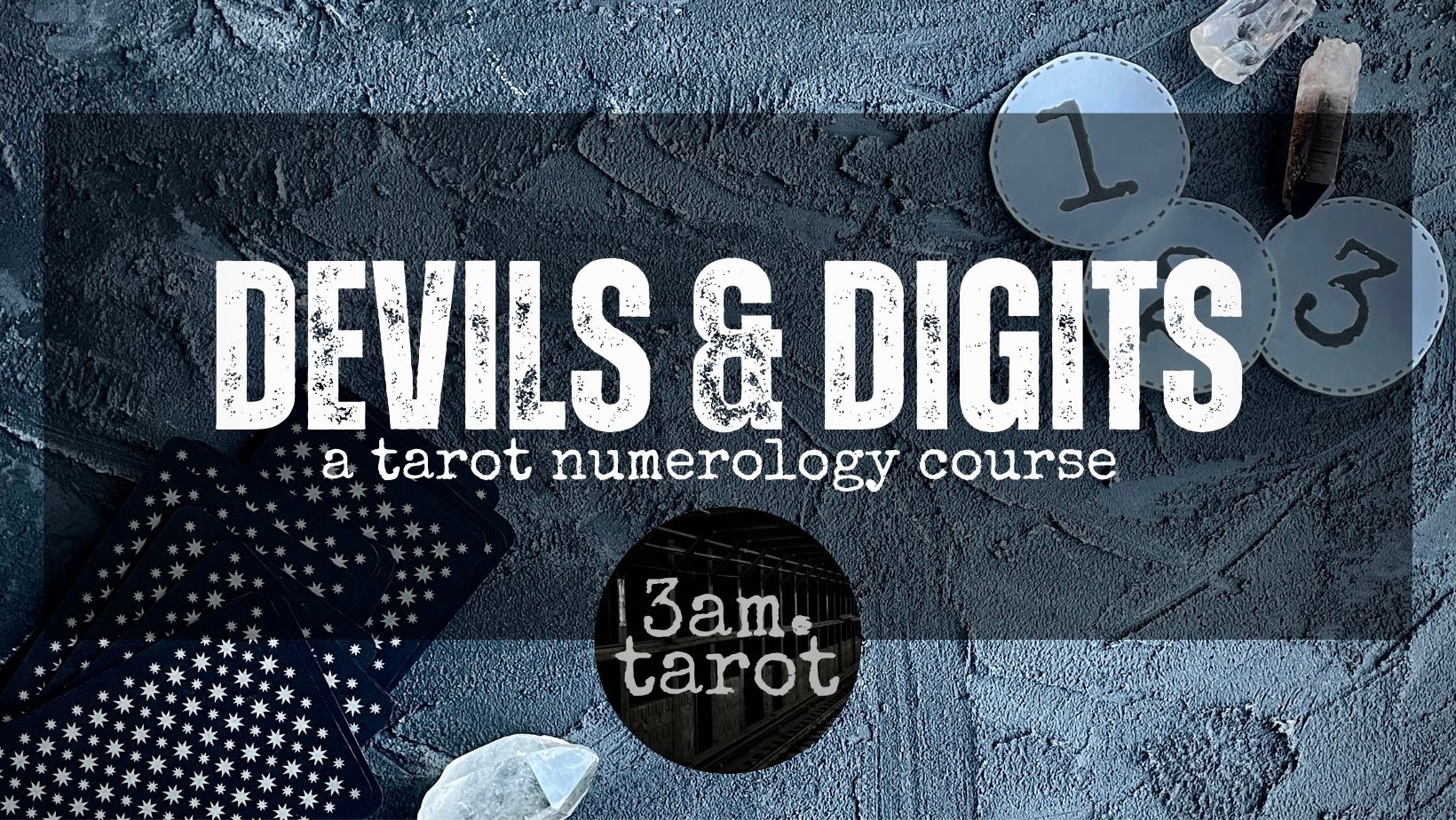 devils & digits is a nine-week course exploring the numerology of tarot, and features pre-recorded videos with captions and transcripts, downloadable worksheets and exercises for personal work, exclusive tarot spreads for reflection and introspection, a private online community for connecting with your fellow students, weekly office hours, and lifetime access to all content.
it's absolutely okay if you're not great at math, aren't a professional reader, or don't know the first thing about numerology. (i'm terrible at math, so rest assured that this structure has nothing to do with arithmetic and everything to do with meaning.) devils & digits is for anyone who wants to feel more confident about making connections between cards in their readings, who wants to understand the narrative structure of the tarot, or who struggles to interpret certain cards.
by the end of this class, your relationship with the 78 cards of the tarot will fundamentally shift, because you will understand exactly what purpose every card can serve. you will go beyond standardized meanings of the cards to create your own unique set of interpretations, based on numerology and sequences, and will be able to see the cards as jumping off points rather than strictly defined insights.
numerology transformed my tarot practice, and it can transform yours too.
while the course begins on april 30th and takes places over nine weeks, i want to emphasize that there's no pressure to have things completed on a particular timeline, and that it's truly impossible to fall behind. six weeks of the class include new content, and the other three are built in to provide extra time and support. but all materials can be downloaded, giving you the space you need to spend time with lessons, take breaks when needed, and revisit this information anytime you like in the future. additionally, i keep the support community open for months after class is over, so you can always ask questions of me or chat with fellow students down the line.
devils & digits includes three different pricing tiers as well as payment plans through moonclerk, with the intention of making this course as accessible as possible. if for any reason you're not sure if this course is right for you, check out the course information page, and feel free to shoot me an email with any questions that you can't find answers to.
i'm so proud of this class, and i hope you'll consider joining me for this session.