hello, dear friends. we have a lot to cover today, so i'm diving right in.
first, as a follow-up to the substack pro issues that i wrote about several weeks ago - i continue to evaluate my options, but in all likelihood i will be moving to buttondown this month. most of the writers that i follow, as well as the more vocal trans writers that previously published on substack, are fairly split on how to handle this - and while many writers have left substack, many others have committed to staying, or accepted new pro deals. there isn't a clear collective decision on this, which makes it hard to know how to best support the marginalized writers on this platform.
i'm still talking to experts about platform migration, am looking at the numbers and my own finances, am considering the arguments for staying and leaving. the lack of transparency about substack pro and the way that this company is funding writers, particularly through the lens of their current fundraising efforts, have left a bad taste in my mouth. yet i need every dollar that i make here, and the time and energy that it would take to move is not insignificant. i am trying to give myself plenty of space to process before making a final decision.
i deeply appreciate your patience, and rest assured that any migration that i do this month will not require any work from you. comments, unfortunately, will remain closed for now, but you can reply to this email with any questions or thoughts. i love hearing from you. (unless you're transphobic, in which case, kindly fuck off.)
and now for the more fun announcements: i am reopening for custom readings! i've made some adjustments to my pricing and booking practices, in order to make this service more sustainable - so i will now be open for a set number of custom readings each month. these personalized written readings include an email consultation, a custom spread written just for you, and a multi-page PDF with images and detailed descriptions of each card as well as overall interpretations of your reading. i have four slots available for the month of april, and you can book right now over on my website. i won't be publicizing this on instagram or twitter for another few days in order to give newsletter subscribers first dibs, so if you've been waiting to get a reading from me, this is your chance. let's sling some cards together!
another big announcement: i am putting together my very first class! i've been working with tarot and numerology in tandem for several years now, and have been itching to share this work in a more substantial way - so i'm putting together a 12-week, workbook-based tarot and numerology class that i'm incredibly excited for, one that is geared towards both beginning and intermediate tarot students. subscribers will get first details as well as first dibs on signups, so stay tuned for more details!
finally, my first single-card study on the fool is finally available for purchase. this is the start of a new study guide series, one that will be released on an as-i-finish-them basis, and dig into the different meanings, correspondences, and interpretations of this powerful archetype. the guide itself includes an exclusive tarot spread that i won't be sharing anywhere else, and i've also written a free meditation to go alongside it. to learn more and download your copy now, as well as to explore the rest of my e-books and study guides, head to my website. and if you're a paid subscriber, you'll be getting a separate newsletter later today with a preview of this study!
thanks for sticking with me. as we step into this new month, give yourself the gift of a few deep breaths, a long strength, a gentle rolling of the shoulders. time to dig in.
on stagnation
over the last few years i've written a lot about rest, about self-care, about grace, about acceptance. they're topics that i feel strongly about, personal skills that i want to encourage us all to nurture: that ability to be generous and kind with ourselves, to honor what we are and are not capable of, to recognize what we've accomplished and give ourselves a chance to recover. easier said than done, certainly, but lessons that we have to constantly learn and re-learn.
but there are other ways that we may slow down, stop moving, find ourselves called to sit in stillness. sometimes we don't choose to quiet our movement, don't intentionally grant ourselves a period of healing and reflection. sometimes, we just feel stuck.
we all have been through tremendous trauma and grief over the past year, enough challenges that any sense of purpose or momentum may be long gone. it may feel hard to stay motivated, hard to believe that the things we are doing will amount to anything. it may feel like you're trapped in time and space, watching the world move while you stay completely, utterly still.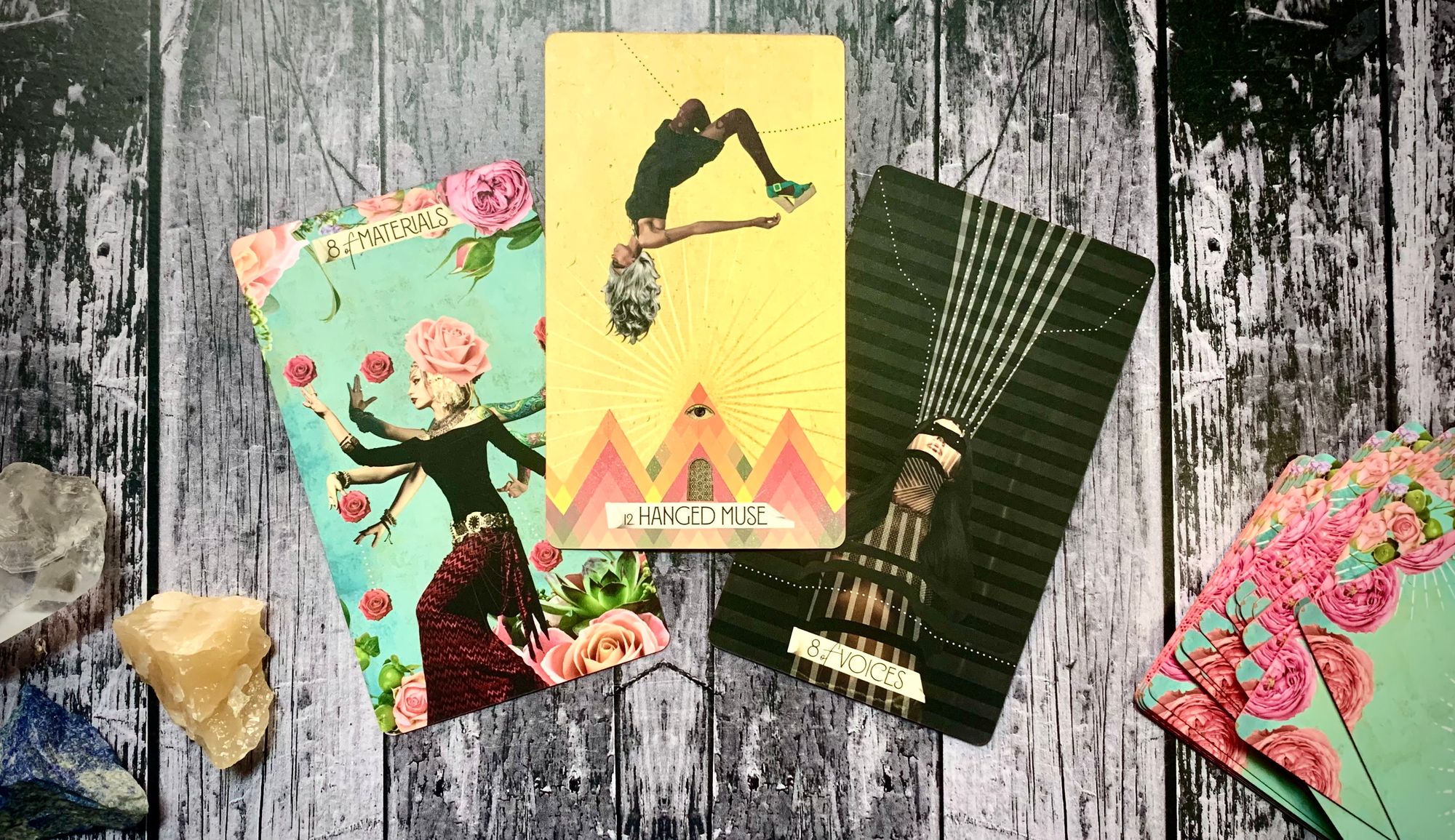 the other day i pulled the eight of pentacles, a card of craftsmanship and devotion, of legacy, of the sacredness in the mundane. we put our heads down, get our hands dirty, put our energy and intention into improvement. we practice, learn, slip up, try again, improve, continue. we work, every day, until we are brilliant at something, until it becomes second nature. we drill, perform, refine, until it looks effortless. and after pulling this card i wrote the words that i knew were right, wrote about intention and focus.
but the truth is that i was exhausted, scared, frustrated. i didn't want to see this card, didn't want to put in the work - i wanted to rest, to hide, to weep. i felt more like the eight of swords, trapped and defeated, tired and uncertain.
beyond the obvious archetype of the hanged one, the tarot acknowledges this sensation of stagnation constantly, through so many cards that i don't have space to go through all of them. there are so many reasons that we can be stuck, and the cards explore all of the different ways that we find ourselves there: by creating boundaries around our hearts, by friction and conflict that lets us avoid real progress, by feeling overwhelmed or overextended, by seeing ourselves as a victim, by being trapped by our own fears and anxieties, by hiding from those that might help us, by believing we don't have enough resources, by feeling that we don't have any options, by worrying that we will never succeed, by recognizing that we have been betrayed or overlooked. i pulled over a dozen cards when thinking about this sensation, about the ways that fear or doubt or exhaustion or scarcity or anxiety can hold us back, can halt our movement, can leave us feeling powerless.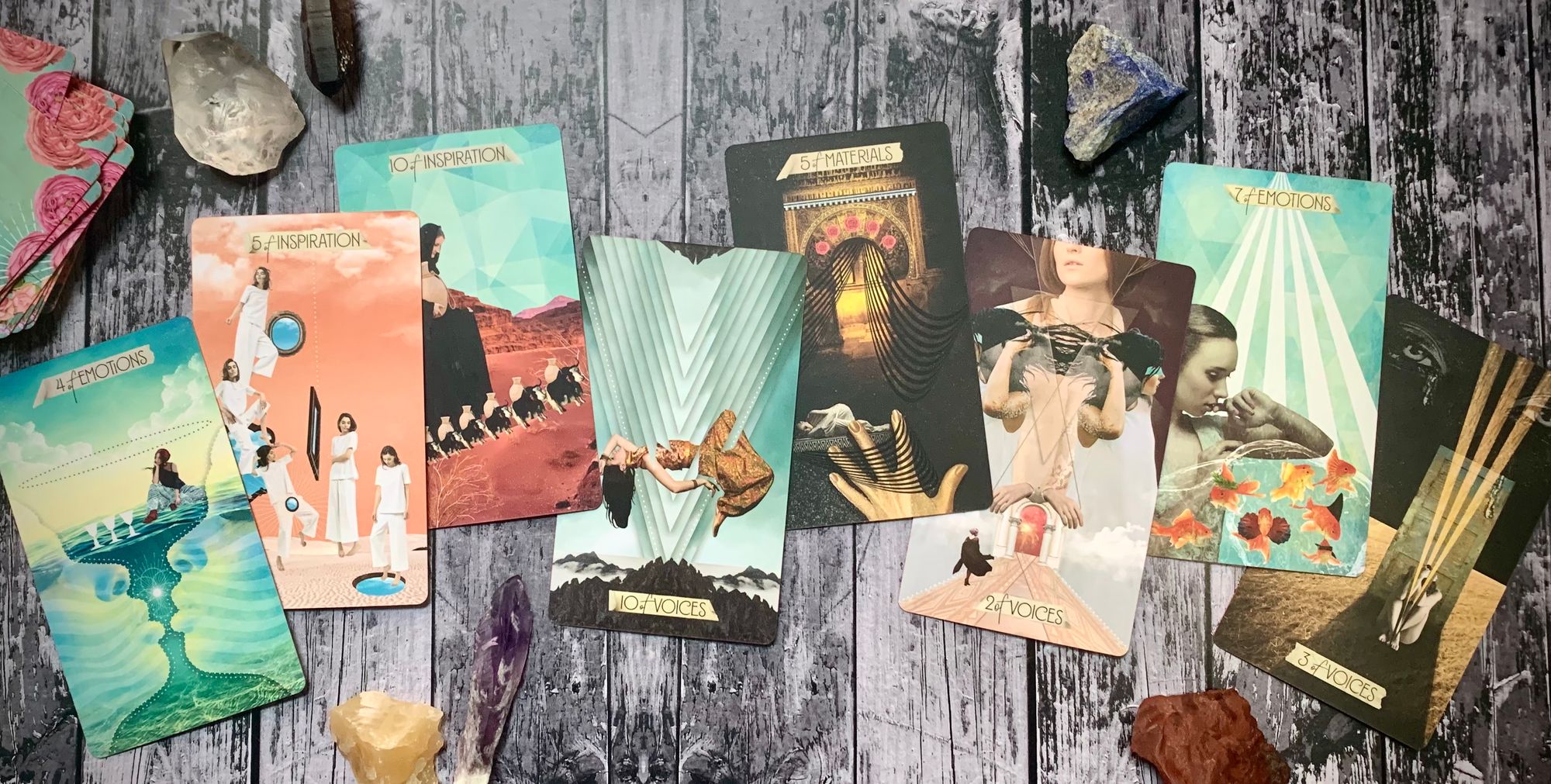 this is often an individual sensation, yet it's not one that occurs in a vacuum. our society is one that focuses on endless building, on progress, on movement. when we meet new people we ask about their careers, their goals, their interests. what do you do? what are you working on? what have you built? we center accomplishments, abilities, accolades. we scoff at prioritizing recovery, healing, at stepping outside of a model that is centered on productivity. we push ourselves like machines, without remembering that even cars need gas and tune-ups and repairs. this mindset is so ingrained within us that stopping feels like failure.
but when we feel ourselves drowning, when we can't find our north star, when we're lost and struggling and ready to give up, what can we actually do? how do we escape?
stagnation may feel like an enemy to be defeated, a locked and impossible door, a crushing blow that stops us in our tracks. you may see it as something to challenge at all costs, to struggle against. but being blocked, creatively or spiritually or energetically or otherwise, is not always a bad thing. sometimes being forced to stop gives us space to clarify our goals, or to recognize that what we've been working towards is something we no longer want. other times it urges us to make a choice, to recognize that we have options in spite of believing that we're stuck on a particular path.
instead of viewing stagnation as a failure, what if we let it be an invitation instead?
in remembering who we are, in reconnecting with our magic, in holding space for the necessity of stillness, sometimes we can make powerful discoveries. in living as the hanged one, sometimes we can reconnect with our muse. if you find yourself sitting in a stillness you didn't plan, ask yourself: what actually feeds your joy, your pleasure, your creativity, and what drains it? which rituals help you feel grounded and inspired, safe enough to explore, and how have you been utilizing them? which parts of yourself do you keep sacred, protected, holy? what are you being called to examine?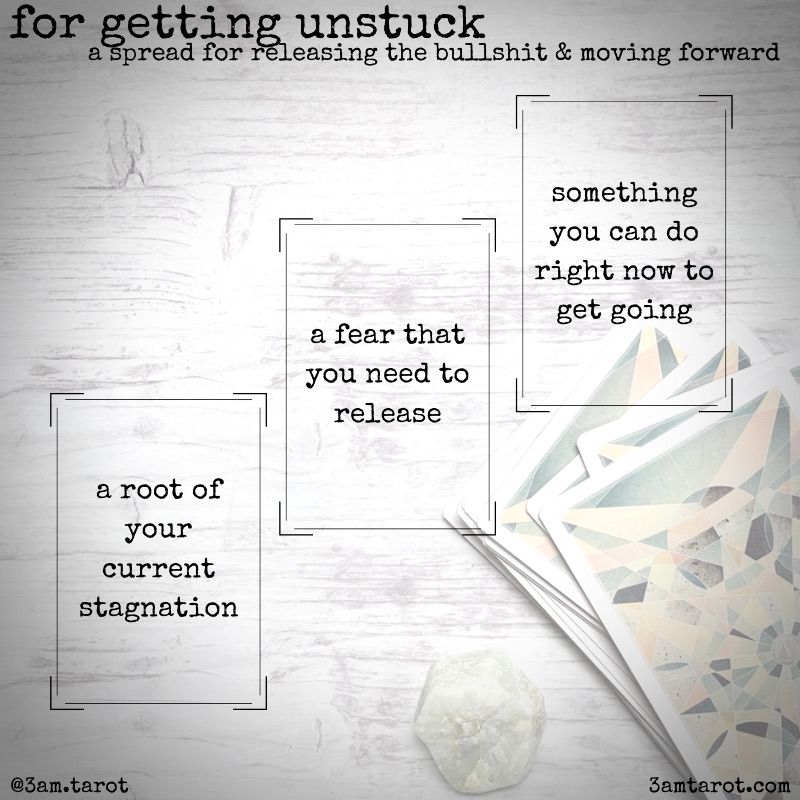 we're all in different places, moving through different things, and right now you might be like me: a little lost, a lot overwhelmed, constantly wanting to climb back into bed. but you might be somewhere else, firing on all cylinders, lighting fires and kicking ass, feeling motivated and inspired and ready to go. no matter where you are, no matter what is happening inside of you, i hope that this new spread can help you find movement, perspective, even joy. i hope it reminds you that you are powerful, brilliant, magical, a being of light and shadow, of movement and stillness, of times of joy and times of sorrow. i hope it helps you reclaim all of those little pieces that make you who you are. and i hope it helps you find magic in times of quiet, to stop obsessing over perfection and instead celebrate all of the different ways that we experience progress.
what can you learn from this moment, whether you are racing forward or standing still? how can you accept where you are, instead of longing for something else? and how can you see this period as part of an evolutionary process, instead of just writing it off as a frustrating dead end?
thank you for being here, friends. have a safe, beautiful april, and please get vaccinated as soon as you possibly can.
images from this post feature the muse tarot and the fountain tarot. all photographs by meg jones wall.