hello, friends. november is here, that season of harvest and reflection in the northern hemisphere. true autumn, lengthening nights and thoughtful days, gentle change. i love this time of year: the crisp air and changing leaves, the cozy sweaters and hot teas, the anticipation of winter and all of its tenderness. whether this month brings family gatherings, time with chosen family, or quiet solitude, i wish you safety and peace, magic and wonder.
the community studies that i'm sharing over on patreon keep inspiring my writing here, leading me to specific themes in a way that feels lovely and holistic. if you like what you read here and want to dig more fully into these ideas, or if you'd like to support my work and get sneak previews of my book at the same time, please consider joining us. i also had my first piece published in wired a few days ago, digging deeper into the challenges that i (and so many others) have had with stripe, and i'd love for you to read and share it so that we can continue engaging on this important issue.
this month, i'm thinking a lot about anticipation, joy, potential. as i keep working on my book, as i consider what my next projects could be, as i dream of so many possible futures and pathways, there's such a sense of wonder, of restless and eager desire, a kind of uncertainty that's exciting rather than frightening. instead of dreading what i don't know, i'm trying to embrace possibilities. instead of fearing the things i cannot control, i'm trying to be curious about where they may lead me.
it takes work to do this — but it's work that feels worth it.
before we dive in, give yourself the gift of a few deep breaths, a few long stretches, a few shoulder shakes. grab a warm beverage, light your favorite candle, put on some gentle music. show yourself a bit of love, the kind of creature comforts that make you feel at home in your body.
let's go.
---
on anticipation
there's something potent about excitement, about expectation.
at its peak, it can feel endless, infinite, boundless. there's an expansive kind of joy that anticipation can bring: the clicking of a car up the first steep incline of a rollercoaster, the first rip of wrapping paper concealing a beautiful present, the waiting for someone beloved to knock on our door. it's the best kind of suspense, the most delicious kind of tension. optimism without dread, the unwavering belief that something magical is about to happen.
anticipation is another word for hope. we let something build, let ourselves coil and wait with bated breath. we imagine possibilities, envision different destinations, consider what we might get to feel or see or embody or discover. every road is ours to follow, every dream is ours to chase. the sky is the limit.
there's something so beautiful, so simple, so rich, about the sensation of waiting for something exciting and unknown to emerge. it's a gift that we give to ourselves, this kind of joy. letting something build so deliciously, so intentionally, that we are nearly dizzy with the pleasure of it.
but bigger than this, anticipation is power. it's a tool that we can use to our benefit, something that spurs us on, reminds us what we're working towards, clarifies and sharpens our desire. it's the first step towards something truly revolutionary, the first awareness that we can change our future.
anticipation is magic.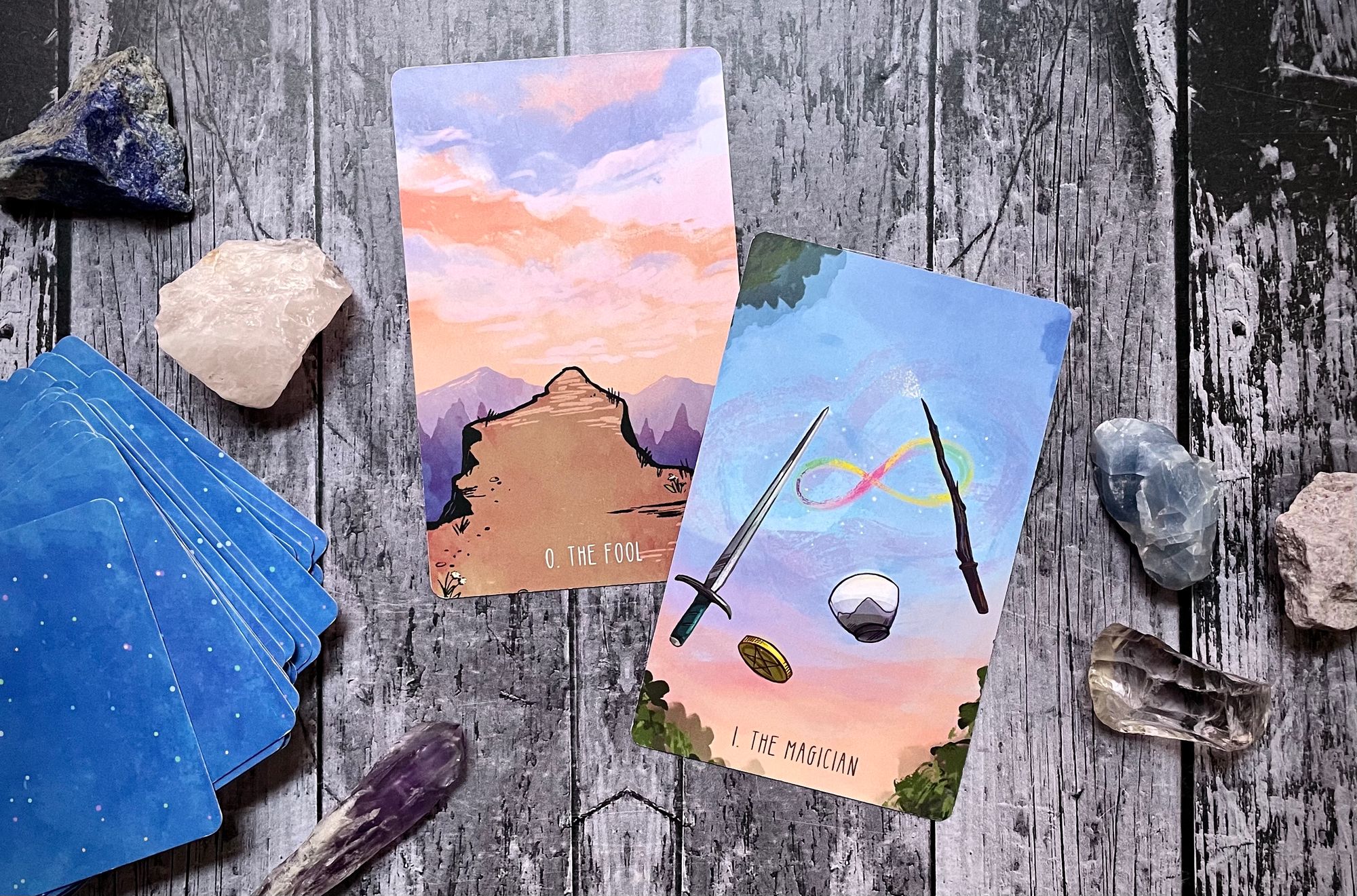 in the major arcana, the fool is a match, just waiting to be struck — and the magician shows us all of the different ways that we could light it, all of the various things we could do with the flame once it's going, all of the possibilities for feeding and sustaining that fire for the long haul.
this figure embodies a sense of potential, possibility. the magician shows us every option, gives us permission to hold all of that hope within the self and really imagine what it might become. the fool has taken a chance, has turned their optimism into action — and the magician dances and rejoices, runs around gathering things like a mad scientist, throwing out ideas and resources and possible avenues for manifestation. there's a reckless kind of joy in this sensation of possibility, a wild abandon to create, a deep need to share every spark of wonder and passion and promise. we may not have started doing anything yet, may not actually being making measurable progress towards our goal — but this fantastical, intoxicating excitement is palpable, invigorating, volatile. it's pure exhilaration, the celebration of all that may develop as a result of this moment.
once we name our deepest wishes, share the longing that lives in our most secret and wild places, so many new things become possible. those fragile dreams unfurl like petals on a flower, stretching towards the sunshine, letting themselves take up space. in being honest with ourselves about what we truly want, we also confess our belief, our faith, our hope that those wishes might actually come true.
this is wild effervescence, every want bursting forth at once, tangling and overlapping and growing and changing. this is how every great creative ambition, every powerful step of progress, every significant discovery and work, gets started: with these moments of anticipation, these moments when every door blows wide open, these moments when the world becomes our oyster.
this is desire without shame.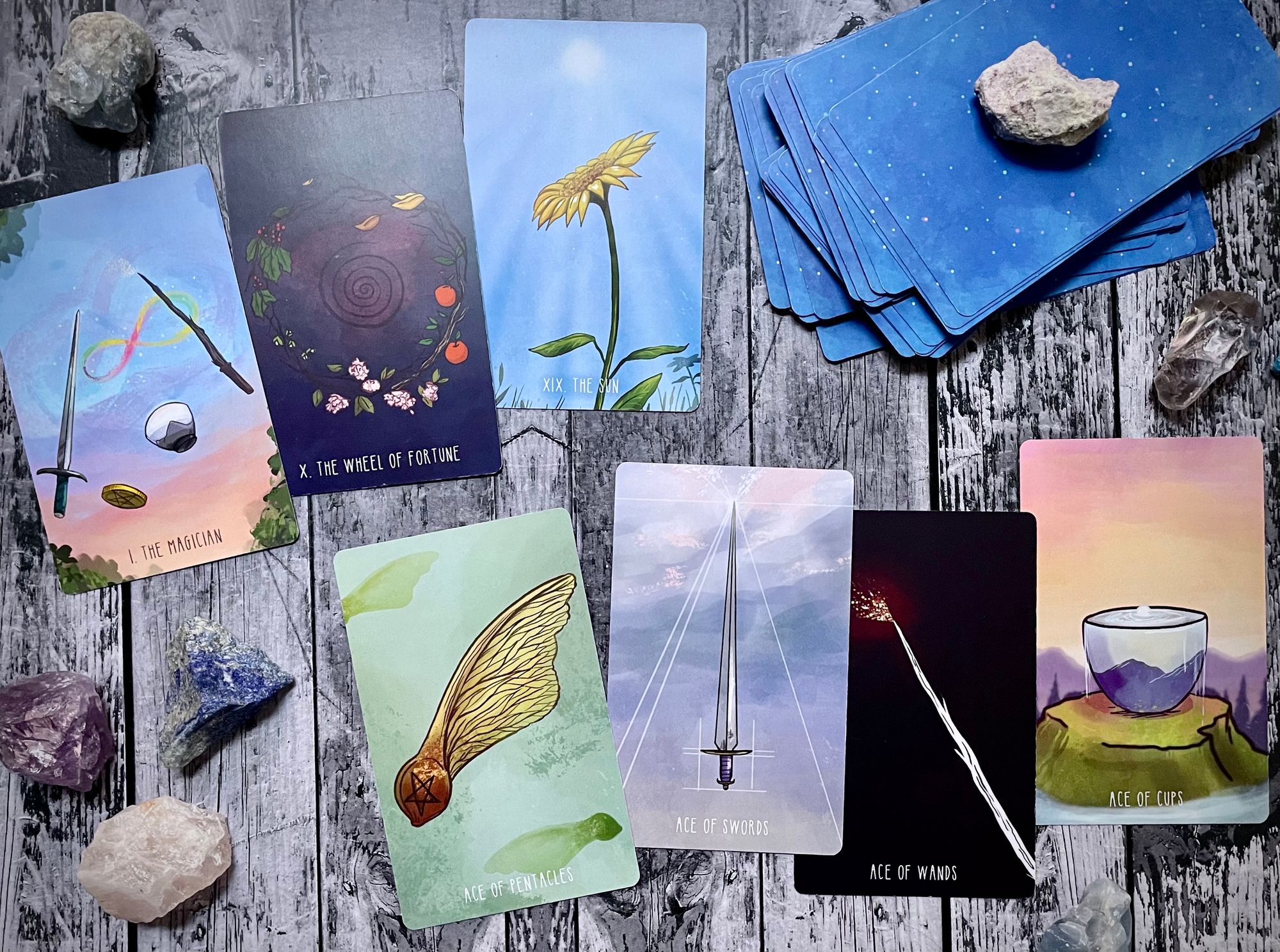 the magician isn't the only card of potential and hope, of excitement and possibility. we see this same energy reflected in the aces and pages: seeds beginning to germinate, dreamers setting out to ask questions and gather information and take chances, students eager to blaze new trails and make new mistakes and learn from every discovery.
numerologically, we see it in the wheel of fortune and that sense of inertia, fate, gravity. the awareness that we are part of something bigger, that the things we build and imagine and create and destroy all contribute to larger energies, broader movements. the knowledge of our power, the delight in our progress. we see it in the sun's brilliant clarity, abundance and celebration. the joy of sitting in our present and knowing that everything we want is within reach, is already in our grasp. the awareness of our own magic, our own power, our own strength.
what brings these cards together is curiosity and conversation, optimism and faith, wonder and longing. it's preparing to start on a long excursion, and thinking about every potential twist in the road, every fork and bend, every unexpected hurdle. it's looking back over a journey that's already been taken, celebrating where we've been, imagining where we could go next. it's seeing ourselves in the present, and understanding how we connect to both past and future, how our desires link us to who we've been and who we're becoming.
there's joy in the wondering, in the wishing, in the dreaming. there's magic in the hope.
of course, anticipation doesn't have to change the world, doesn't only matter when it's tied to something massive. sometimes it's just something to keep us awake, connected, reaching. sometimes this kind of joy means giving ourselves credit for the little wins, sitting in the moment even if we've just begun, letting the possibilities stretch out before us in a way that we don't immediately try to control or influence or monetize. sometimes hope lives in recognizing momentum when it's building, validating the tension that lives within us even when we aren't completely sure of where it will lead.
the reality is: anticipation changes us, whether we realize it or not. it helps us clarify our cravings, identify our needs and wishes. it reminds us that magic is real, and that we can wield it. it helps us expand, explore, evolve. it reminds us that whatever we want is possible, if we give ourselves permission to pursue it.
hope lets us dream. and in the dreaming, it lets us start to envision possibility, instead of denying our truest, richest cravings. it gives us the space to wish on stars, and to believe that one day, that same starlight could sparkle in our grasping, grateful hands.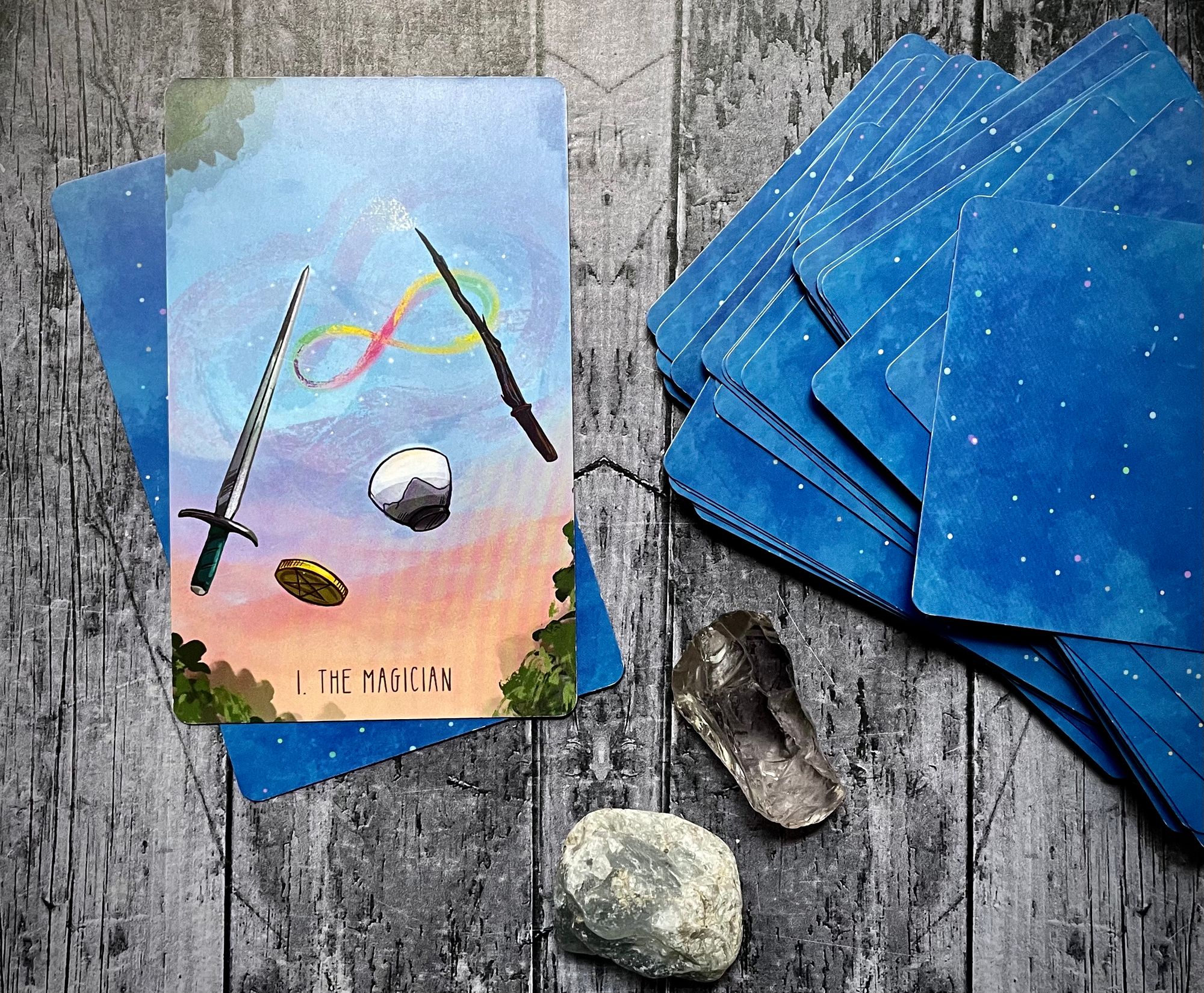 anticipation, excitement, hope, is a powerful thing. it is capable of anything, is offering you a gift: what if you made space for your dreams? what if you let your desire take up space, change your path, alter your future?
what if you stopped telling yourself no, and listened to the yes all around you instead?
---
have a hopeful, exciting, magical november, friends.
images from this post feature cards from the spacious tarot. all photographs by meg jones wall.