introducing: spread architect!
hello, friends! i'm so excited to share my latest offering, which has been in the works for awhile and is finally almost ready to enter the world: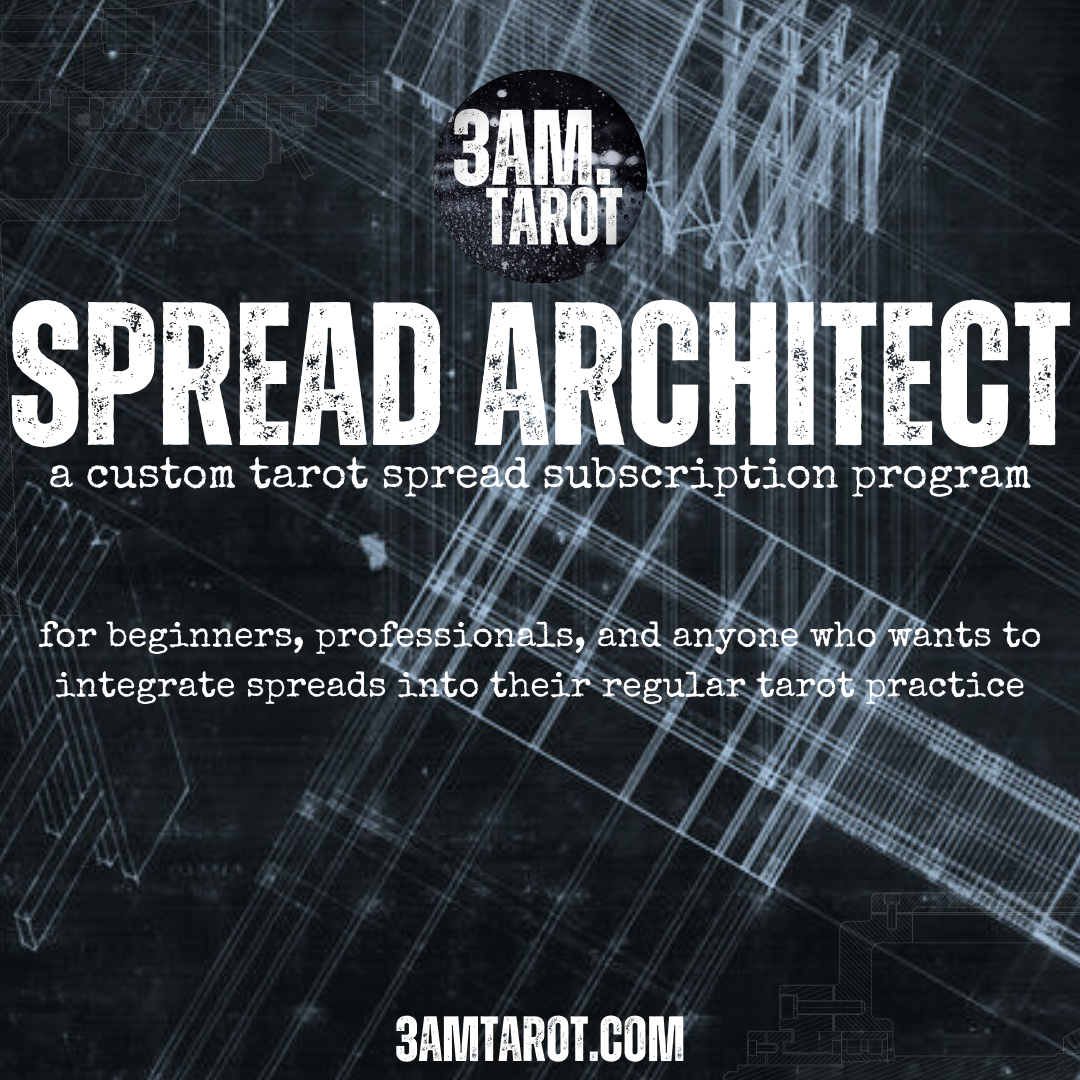 spread architect is my brand new, personalized tarot spread subscription program. every month, you'll tell me as much as you like about what you're working through, thinking about, or eager to explore, and i'll create a custom tarot spread based on your needs, preferences, and chosen topics. you'll have this spread to keep and use at your leisure, to play with as often as you like, and will also be able to share feedback with me on how the spread worked in your readings.
why tarot spreads? tarot spreads serve as blueprints: they help us map out the conversation that we want to have with our cards, and also encourage us to clarify what it is we're hoping to receive from the cards. while sometimes we are looking for general vibes or want to have a more organic, casual conversation with the tarot, spreads let us communicate to the cards exactly what we want back: advice, insights, practical next steps, understanding, or anything else we hope to receive. working with tarot spreads regularly is an incredible way to strengthen and hone your practice, as it encourages deliberate questions, and precision in readings.
but the thing is, sometimes we need a tarot spread that we just can't find. sometimes we want to ask the cards something personal, something intimate, something complex or layered or sensitive. sometimes we just can't quite figure out how to guide that conversation the way we need to, and need a bit of support.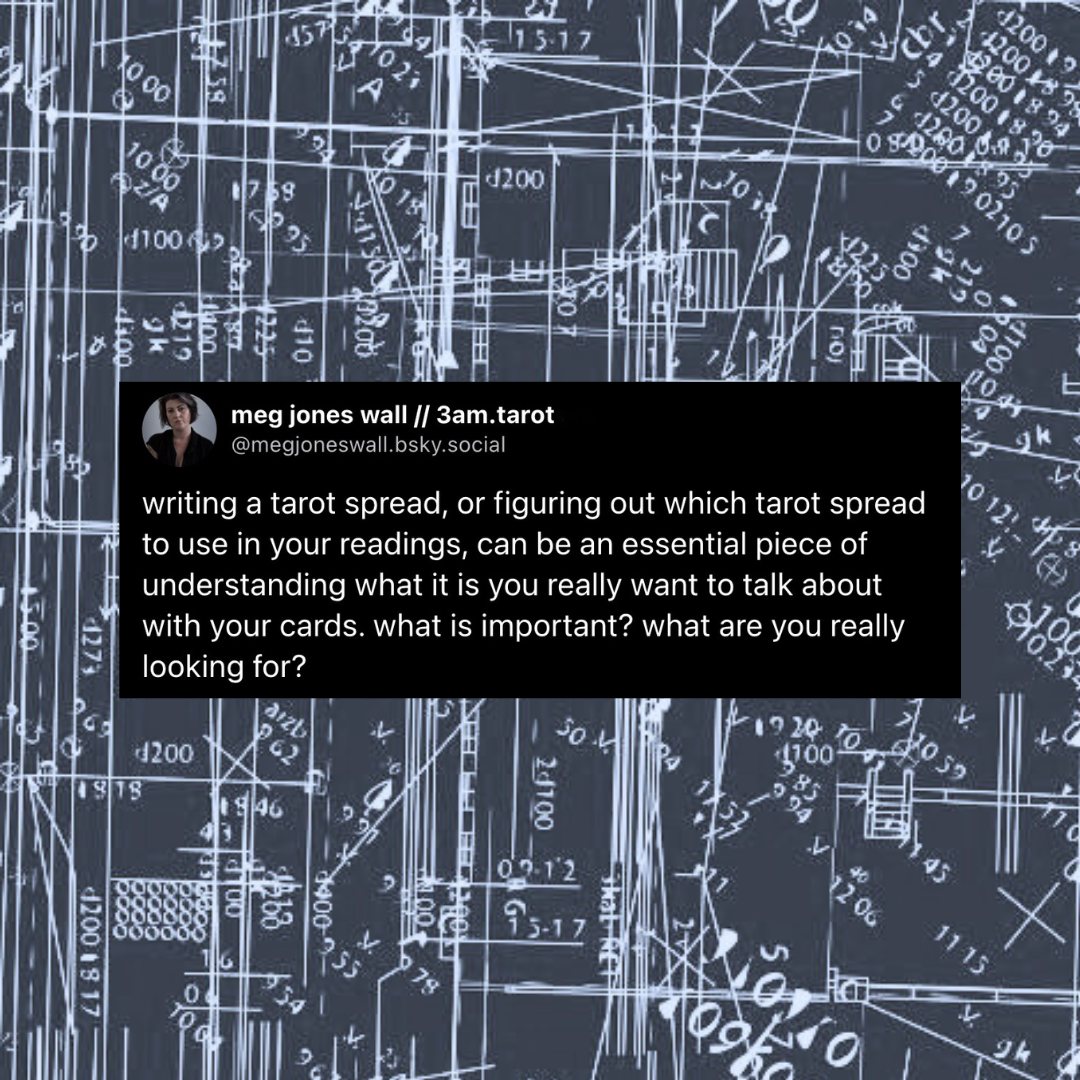 i've been writing custom tarot spreads for years as part of my custom reading services. it's something that i love to do, something that feels so special and juicy, something i know i'm good at. but readings from professionals can take a lot of time for both parties, and aren't always in the budget. spread architect lets you take advantage of my spread writing services, but empowers you to do the reading yourself. you get the best of both worlds: a more affordable customized spread, as well as the support you need to read the cards for yourself.
the best part? it's okay if you don't come to every month knowing exactly what you want to read on. i can help you figure it out. we go at your pace, to create something that works just for you.
the spread architect subscription will open up for purchase next week, so if you know you're interested or even if you just want to know more, join the waitlist. there's no pressure to buy, but you'll immediately get two free, brand new tarot spreads just for signing up. and if you purchase via the waitlist this month, you'll lock in my lowest price on this subscription, which will go up permanently in september.
i hope you're as excited about this new offering as i am! make sure you're following me on instagram and tiktok, as i'll be hosting AMAs about spreads and the spread architect subscription over the next week and also sharing a ton of new spreads that you can access for free, including the barbie-inspired spread below.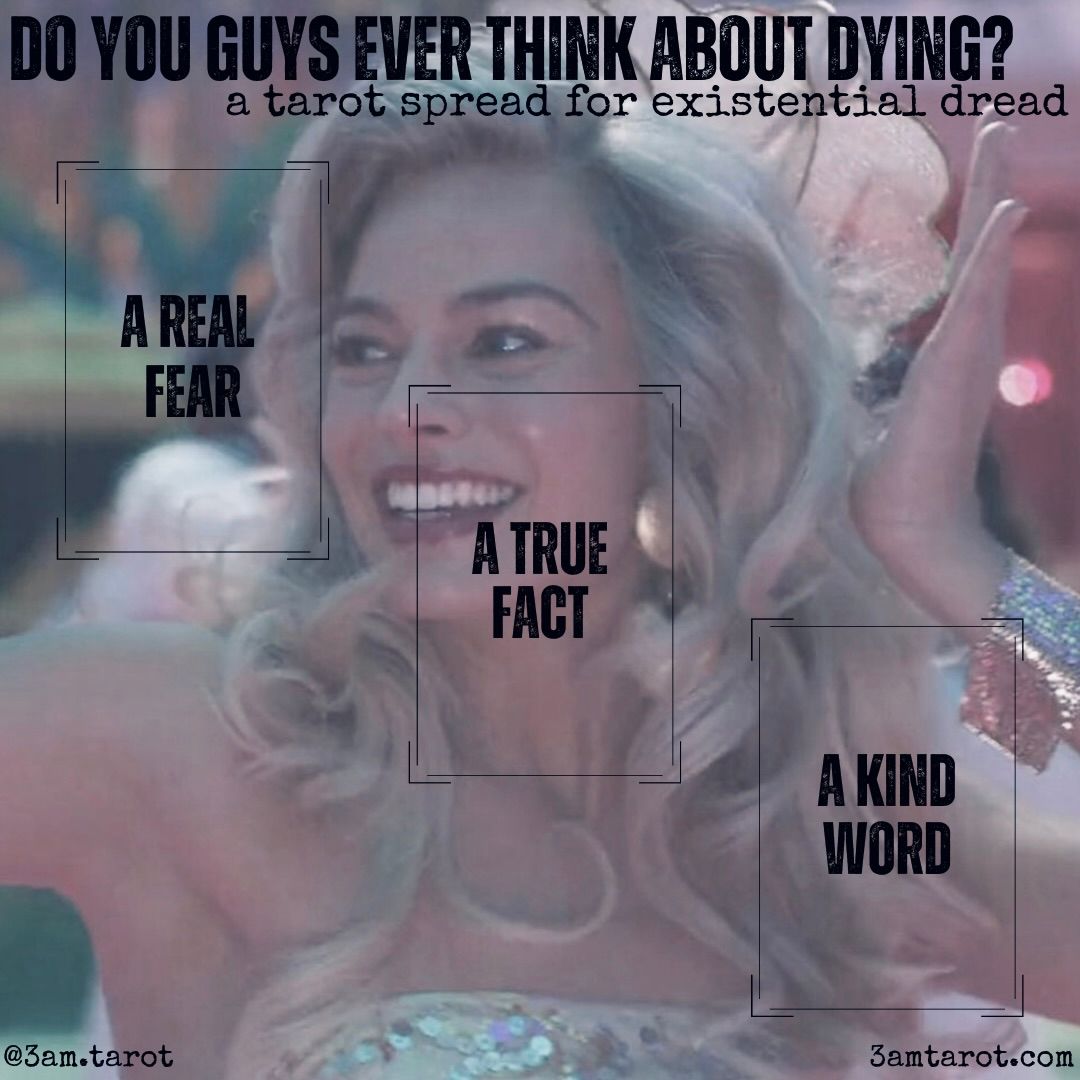 and if you're curious about my other spread-related offerings, make sure to explore my website. i've got links to my favorite spreads, spread collections and worksheets for immediate download, a brand new free email course to walk you through reading spreads, plus a few more teasers sprinkled throughout the site about launches i've got coming down the pipeline.
thank you for being here, and for supporting my work. it's my fervent hope that this spread architect subscription helps me support you, too.