from the hierophant to the lovers
arcana: mysterious or specialized knowledge, language, or information accessible or possessed only by the initiate
tarot itself, and the major arcana specifically, often exists in a murky state of mystery, of magic, of simultaneous stillness and movement. the cards are grounded in tradition while also being open to interpretation, offering us chances to find ourselves within these strange figures, these vague bits of wisdom, these archetypes of knowledge and exploration and release. one of the most beautiful things about this tool is how we can immediately make it personal, finding ourselves within the cards, discovering the insights and truths that we each need to hear. the tarot is open enough that it has space for all of us, but for those that are willing to dive deep, we can find endless layers of magic, of power, of understanding. there's a reason that people can spend their whole lives studying tarot and still make new discoveries during readings - the cards are meant to open a path, a door, and stay with us as we walk through to the other side.
one of the most mysterious elements of the fool's journey is in the spaces between major arcana archetypes, the steps we take along the way. we move from figure to figure, following the fool as they meet different teachers, confront various challenges, experience creation and confusion and awareness and loss and stillness and chaos and rebirth. but those breaths between cards, those shadowed, empty spaces hovering between archetypes - what magic dwells there? what transformations occur between the magician and the high priestess, death and temperance, the star and the moon? and how can those strange moments of mystery and wisdom help us transition between archetypes, between truths, between seasons?
these spaces, those endless little in-betweens, constantly capture my attention when i'm reading tarot. i can't help but want to explore these strange little corners, dig into the shadows and figure out how we shift and change in those brief, impossible steps that connect the archetypes. and in working to examine these transformations more closely here with devils & fools, i know new truths can emerge, new insights can manifest.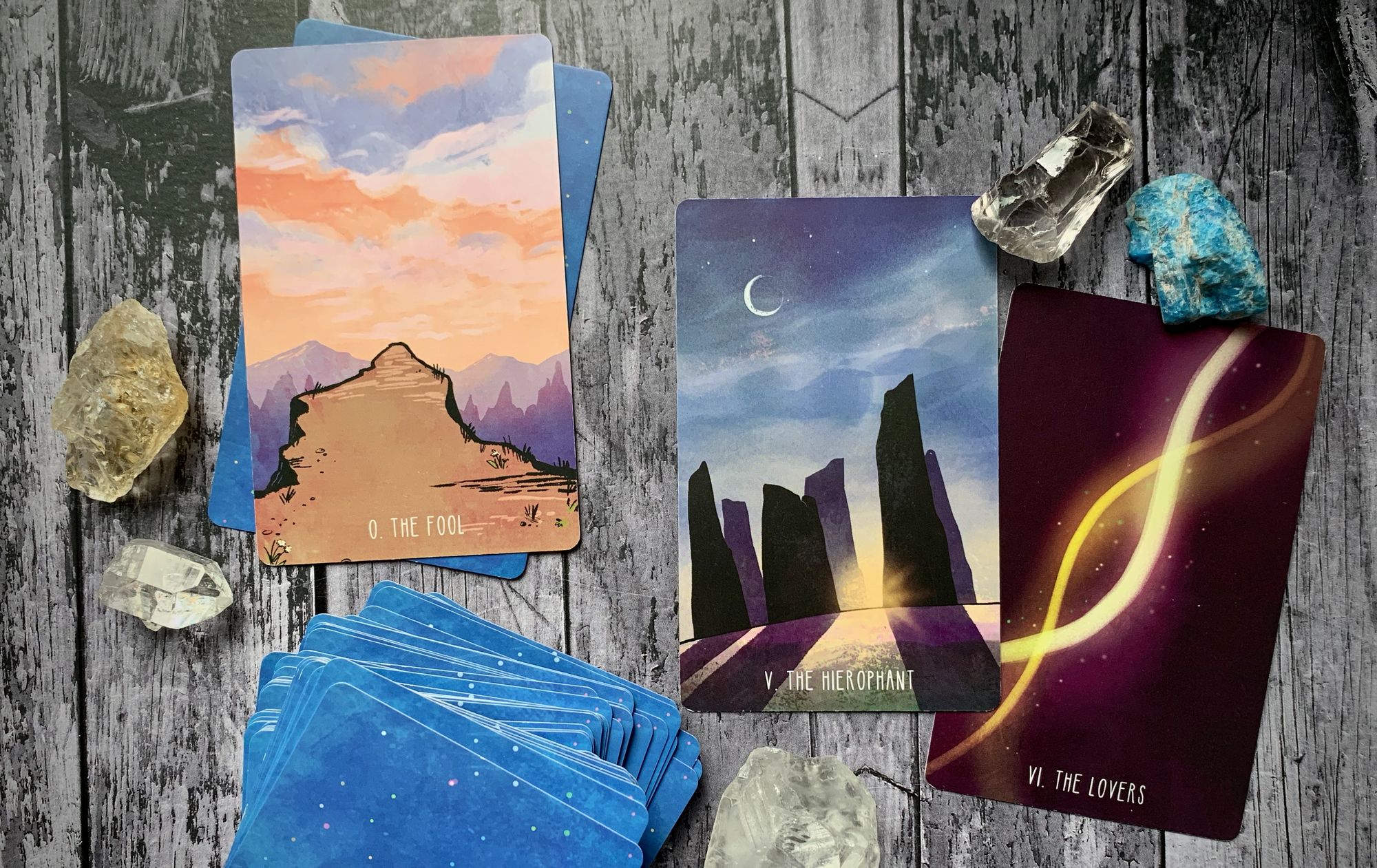 we're currently in the season of taurus, represented within the major arcana as the hierophant. this archetype presents a lot of challenges, holds many contradictions, that can make it difficult to work with and understand. on the one hand, the hierophant represents existing knowledge, history and tradition and education, the masters that guide us in intellectual exploration and the spiritual leaders that urge us to expand our understanding of the known universe. it's with the hierophant that we meet the mentors, the teachers, the gurus, the wise ones - this archetype urges us to remember our past, to find grounding and comfort in the rituals and customs that have shaped us, and to honor the communities that tether us to the physical world.
but on the other hand, the hierophant also encourages expansion, questioning, new insights. with this archetype by our side we learn to explore in ways that make sense to us, establishing personal practices and rituals that speak to our beliefs, honoring the wisdom and intuitive knowledge that bubbles up from within. the hierophant may hold a key or two to the universe, but these are not the only answers that exist - and in digging into these mysteries in a personal way, we come to understand more about our own magic. we learn to find power and brilliance within ourselves, choose to be fully present, and explore the mysteries that dwell all around us with joy, courage, and confidence.
after we've spent time with the hierophant, learning to balance the physical and the spiritual, the past and the present, established traditions and new personal rituals, we gain a powerful understanding of what we ourselves can contribute. the hierophant is wise and educated, shares knowledge openly and encourages questions, but ultimately this figure pushes us to recognize and acknowledge what we believe in. where do we feel safe, and where are we willing to push the boundaries? what traditions protect us, and which are holding us back? how much of our own power do we dip into, and when do we prefer to defer to those with more authority or experience?
the paradox of the hierophant offers some hints as to how we find our way forward to the next archetype in the major arcana, the lovers. not simply about romance or marriage or partnership, the lovers allows us to find true freedom, to accept the people that we are and the people that we are becoming, to honor our needs and desires, to find ways to embrace both where we are and where we are going. communities and connections are beautiful things, and i'm not disparaging them - but the lovers as an archetype cannot be written off as a card that simply speaks of love, that is focused only on romantic partnerships. this is a card of choices, of personal values, of recognizing where we are and are not willing to compromise. it's with the lovers that the fool starts to practice personal awareness more regularly, learns to honor their desires in a way that impacts their daily choices as well as their long-term goals - within this archetype we explore communication, understanding, acceptance, balance, freedom, choices, intentional vulnerability. the lovers lets us find confidence within ourselves, and by understanding who we are, we can choose how we will share that strength and power with the people that we care about.
the magic that exists in the space between the hierophant and the lovers takes a profound amount of courage to move through, because it requires a deep and intensive trust in the self. we cannot leave behind a wise mentor, an established community, unless we know exactly what we are moving towards and are certain that it is the right direction. by the time the fool reaches the lovers, they have developed the rituals that give them space to explore, as well as the practices and tools that help them stay grounded. there's a confidence in this shift, a transformation into someone that is ready to test their own limits, that refuses to settle. the fool has gone from questioning everything to being certain about a few essential truths.
the hierophant shows us what the world has been, but the lovers lets us see what it can become. and in moving gently from one archetype to the next, we find new layers in the ways that we can love ourselves, and begin to imagine different, more expansive paths forward.
//
this post is free to access, so don't be shy - share it with your friends.

for more writings like this, please consider subscribing to devils & fools.
this post features images of the spacious tarot deck. all photos taken by meg jones wall.