hello, friends, and welcome to the beginning of another moon cycle. this would normally be a post just for paid subscribers, but given my shift to another platform, i'm making it available to everyone today. a big thank you to all that have dropped me notes, left tips on my website, purchased readings and books, and just generally been incredibly lovely and supportive. i am moving slowly, and appreciate you being here.
today's new moon in aries is one that tends to feel particularly energetic and exciting - a burst of sparks and passion, radiant focus, intention and enthusiasm and getting organized for a brilliant future. aries' cardinal fire wants us to tap into our potential, to set the world ablaze, to chase after those biggest and most ambitious dreams, to go to war for the things we believe in the and the future we are creating for ourselves. and whether you love to do elaborate new moon rituals or write out wishes or instead prefer to just crawl into bed, paying attention to the moon's cycles and the tarot archetypes associated with them can help you connect with your goals in new ways.
however you honor tonight's new moon, do so with passion, with conviction, with intention and focus and personal power. trust that you have even more magic than you realize, and ask yourself - what are you going to do with all of that crackling, brilliant energy? how can your fire reshape the world?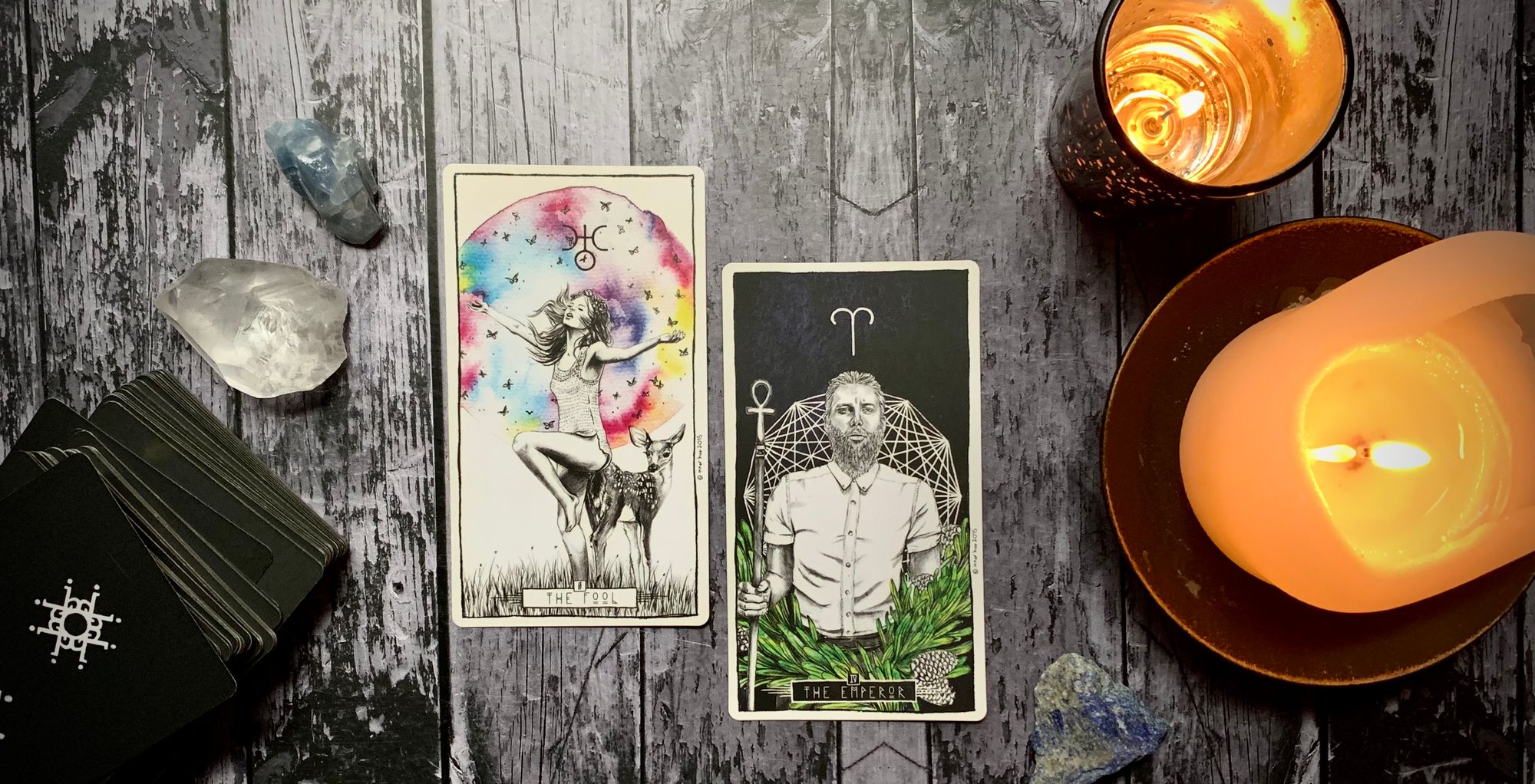 new moon in aries - april 11
the fool and the emperor: taking the first steps in a new journey, focusing on a specific goal, believing that anything is possible, getting organized about what we want, creating structure in ways that allow for flow.
the fool's brilliant optimism partnered with the emperor's nuanced and skilled control give us endless possibilities for success. we have all of the tools that we need to go far, and this is a time to combine all of the joy in potential with intentional action, to guard our energy and create foundations that we can build upon for the seasons and cycles to come. aries is ready to set us up for success, to help us light up the world with our magic and brilliance, to set fires that we will keep feeding and celebrating. what are you ready to start building? how can you put those vivid, powerful dreams into practice? what precious ideas and visions do you hold dear, and how can you protect them?
waxing crescent moon in cancer - april 19
the high priestess and the chariot: choices, movement, checking in with the self, exploring boundaries, victory, confidence, trusting intuition.
thoughtful and intentional,  the high priestess reminds us of the importance of stillness, of listening to our inner wisdom, empowering us to break free of old boundaries and find our victory with the chariot. there's a sense of purpose to this moon phase, a desire to act in a way that reflects our beliefs and our values, keeping ourselves safe even as we move out of our comfort zones. cancer is a sign of deep love and essential boundaries - so consider what keeps you grounded, even when you are taking risks. what are the safe places, established communities, familiar patterns that you can always return to when you feel uncertain? how does making time for reflection help you feel certain about what your next moves will be?
full moon in scorpio - april 26
the sun and death: illuminating the world, letting go of what no longer serves, finding clarity and abundance all around us, moving through necessary shifts and cycles, preparing for a new beginning, saying goodbye to old shadows.
the sun can be a tricky archetype - it often is associated with joy, abundance, celebration, being fully present. yet it also drags everything into the light, shines its brilliance into every dark corner, refuses to allow anything to remain hidden - and when the full moon is in scorpio, a sign that lives in the murky depths and prefers to keep itself private, we can feel a bit of whiplash. yet this phase invites us to consider the ways that we like to shine, the pieces of ourselves that we long to have recognized, the moments that we let go of the patterns or beliefs or situations that are holding us back and instead embrace whatever may come next. where do you feel free? what are you moving towards? what resonates deeply, that you're ready to share and celebrate?
disseminating moon in capricorn - may 1
the star and the devil: healing, ambition, hope for the future, our relationship to control, paying attention to what we are building, recognizing things that are new, wrestling with power.
these archetypes may feel like opposites, but both ask us what we really love, what we really want, what we are really working towards. and while the star and the devil can feel like they represent solitary moments in our lives, this phase makes space for connection, for sharing joy and burdens, for enjoying a sense of community and reciprocity. do we believe that a new future is possible, or would we prefer to stay in our established paths? are we willing to break free of our past, to look around with fresh eyes and move in a new direction? what grounds us, makes us feel safe, and what challenges us? how are we growing? what have we learned from our struggles, and where can we find power in that slow evolution?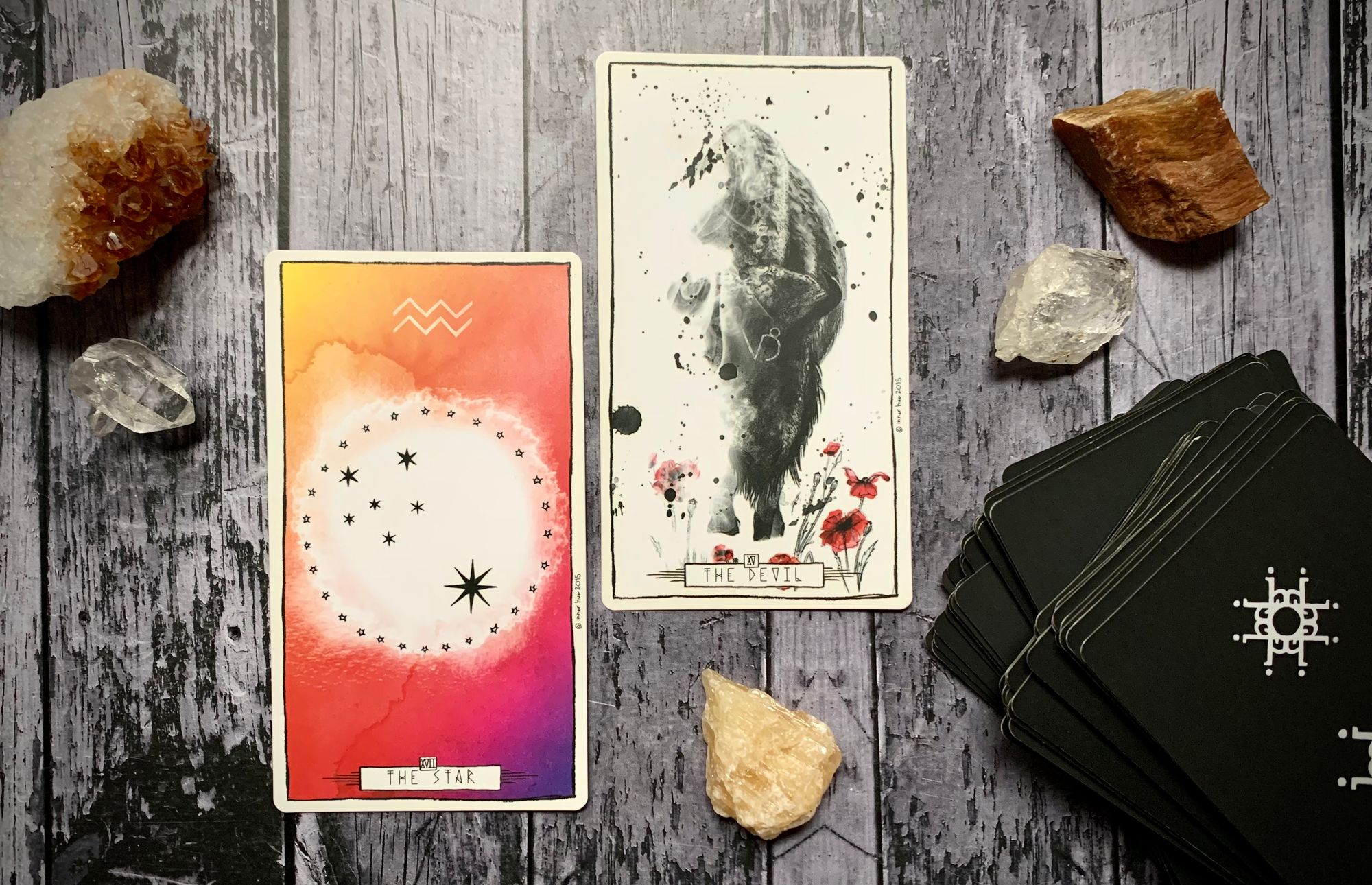 if you're looking for more on today's new moon in aries, check out my spread for this moon cycle over on instagram. thank you for reading and have a beautiful new moon!
images from this post feature the lumina tarot. all photographs by meg jones wall.