hello again, friends. rather than doing a standalone post for every new and full moon, moving forward i'm going to consolidate moon information into a standalone post each month, that will be available for all subscribers. i'll still share spreads for these moon phases on my instagram, so make sure you're following me there for new spreads and readings throughout the month.
full moon in aquarius
today's moon reaches its peak in just a few moments - and with the full moon already naturally associated with harvest and celebration, it feels particularly lovely to work with this energy today, on the heels of lammas. as always, this can be an intense or sensitive time energetically, so listen to your body and mind, take time to rest and recover, and honor your personal needs.
aquarius is associated with the tarot archetype of the star, a beautiful card of hope, assessment, and new beginnings. coming late in the major arcana, after some powerful upheaval and permanent shifts, the star asks us to evaluate where we are, to look at the world through this new perspective that we've gained. after so much chaos and evolution, the star invites us to pause and regroup, to recognize the transitions and transformations we have moved through, to consider our hopes and dreams and goals and desires with this new set of eyes. and in the same way, this full moon in aquarius makes space for us to innovate, to adjust, to consider how our path may change moving forward. there's powerful brilliance in aquarius, an ability to step back and look at the big picture, to identify where change is needed, to make adjustments that put us where we want to be. and when we look at the star next to the sun, our archetype for the full moon, we see both a fresh start and a triumphant victory, the celebration of all that we have achieved and the possibility for new dreams to emerge. if it feels like things are still changing, if you feel an impulse to make a shift or adjust course, don't ignore it. this moon wants you to make space for truth, to open your perspective, and to get ready to adapt.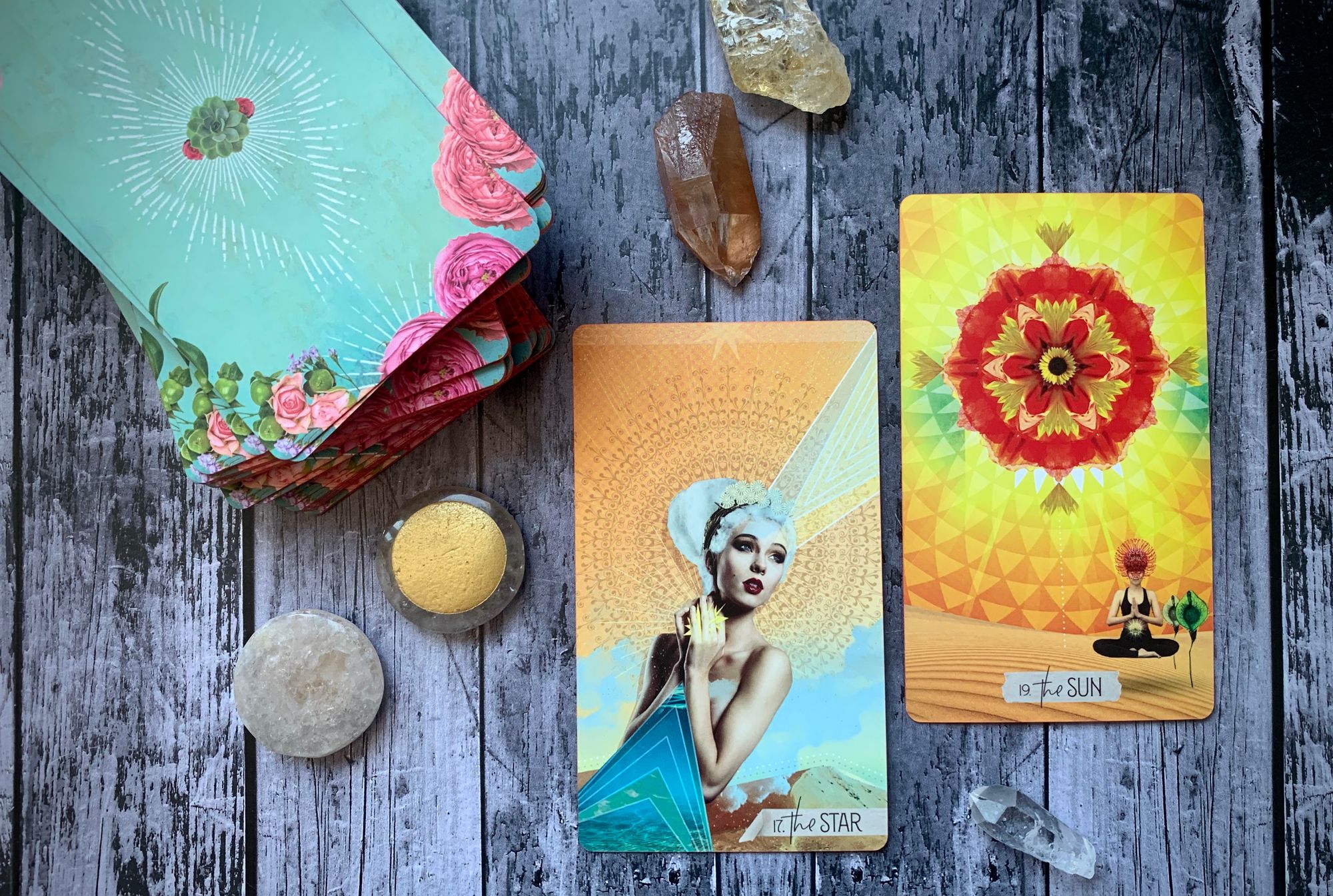 for more on today's full moon, i highly recommend my dear friend jeanna kadlec's brilliant post from this morning - and if you want to learn more about astrology, sign up for her newsletter, astrology for writers.
new moon in leo
on august 18th we have a new moon in leo, kicking off a new cycle that brims with fire and passion and courage. we'll be at the tail end of leo season, preparing to shift into earthy, precise virgo, so this new moon will encourage us to chase those big dreams, to show up for ourselves, to take pride in the things that make us exceptional.
new moons are always associated with the fool, that powerful moment when we listen to our intuition and take a step forward into a wild, enticing unknown. and while we may not be certain where that new and winding path will lead, with new moons we can set intentions and listen to what has been bubbling up within us, can consider what seeds we've already planted and which we want to start tending in earnest. paired with leo's archetype of strength, this moon asks us to celebrate every aspect of ourselves: our wildness, our patience, our awareness, our capacity for magic. strength encourages conscious action and intentional choice, but it also urges us to step fully into our power, to recognize who we are and all that we are capable of.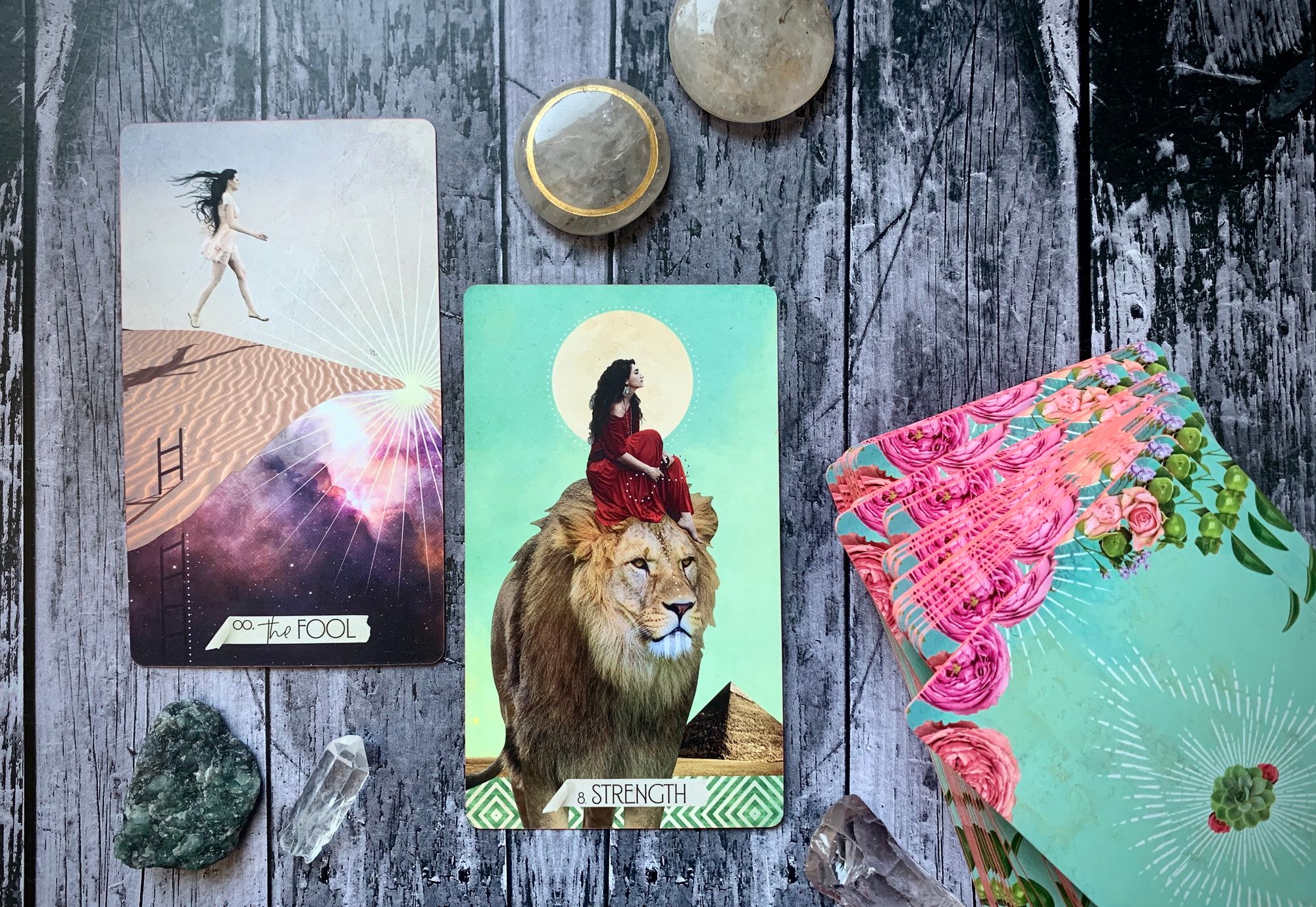 together, these cards speak of taking chances that resonate deeply, of being aware of divine timing, of balancing strength with vulnerability. this is a time for creativity, for confidence, for moving with dignity and determination. and when we work with this new moon in a few weeks, it will offer a chance for another fresh start, to check in with ourselves and devote energy to the things that matter most to us. leo isn't afraid to stand apart, to be an individual, and paired with the fool's confidence and willingness to walk alone, this will be an important time to honor the magic that you are cultivating within yourself.
a spread for today's full moon
if you want to spend some personal time with your cards today, or want to include tarot in your full moon rituals, i have a brand new tarot spread for today's full moon in aquarius. feel free to share this on your social media, or tag me if you use it in your personal readings - i'll be posting this spread on instagram in just a few moments.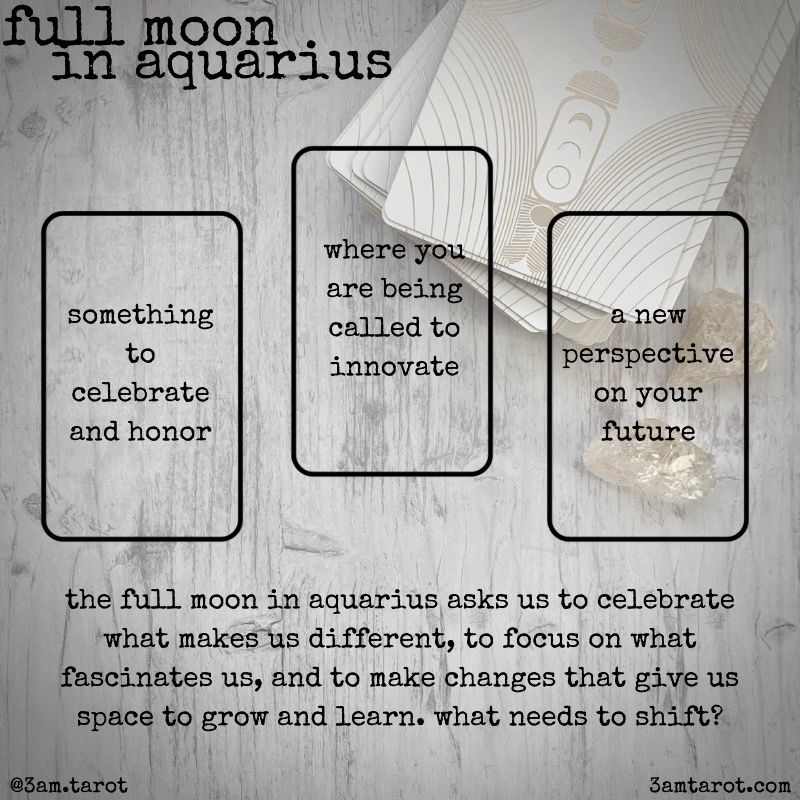 have a beautiful full moon today, friends.
this post features cards from the muse tarot. all images created by meg jones wall.